Foreign trade shows momentum
Share - WeChat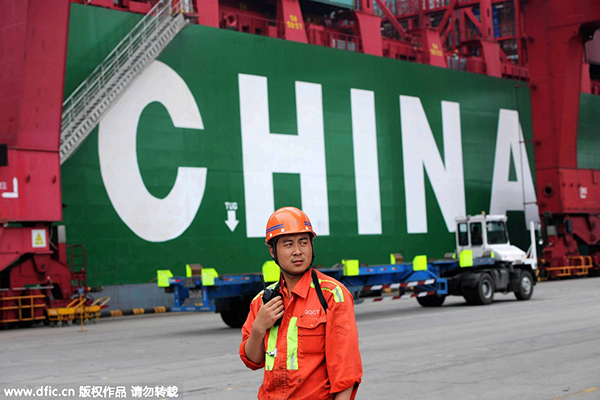 Surplus narrows as China's exports, imports witness handsome growth
China's foreign trade surged 8.8 percent year-on-year to 11.63 trillion yuan ($1.82 trillion) in the first five months of this year, customs data showed on Friday.
Exports grew 5.5 percent year-on-year to 6.14 trillion yuan from January to May, while imports grew 12.6 percent to 5.49 trillion yuan, resulting in a trade surplus of 649.8 billion yuan, which narrowed by 31 percent, data released by the General Administration of Customs show.
In May, the goods trade surplus shrank by 43.1 percent to 156.51 billion yuan, as exports rose 3.2 percent year-on-year to 1.34 trillion yuan, while imports surged 15.6 percent to 1.19 trillion yuan, according to customs data.
Goods trade between China and the European Union grew 7.3 percent year-on-year to 1.7 trillion yuan during the first five months, accounting for 14.6 percent of China's foreign trade.
Bilateral trade volume between China and the United States totaled 1.57 trillion yuan, up 5.3 percent year-on-year between January and May, contributing 13.5 percent of the country's foreign trade. China's trade surplus with the US increased to 154.83 billion yuan in May, from 140 billion yuan in April.
"Because many US companies are worried that inconsistent trade and economic policies of the administration of US President Donald Trump may affect their business, they imported more Chinese products for inventory, sales and manufacturing activities," said Wang Zhi, director of the Research Center of Global Value Chains at the University of International Business and Economics in Beijing.
Xue Rongjiu, deputy director of the Beijing-based China Society for WTO Studies, said many products shipped to overseas markets were made by multinationals' factories in China. For global manufacturing business, China has a reliable labor force, advanced e-commerce based sales platforms and logistics network in comparison with other emerging markets.
Government data show that exports and imports made by foreign-funded companies totaled 4.95 trillion yuan, up 4.3 percent year-on-year, contributing 42.6 percent of the total foreign trade volume during the January-May period.
Private companies also played a bigger role in the overall trade by contributing 38.9 percent, up 1 percentage point compared with the same period last year.