Plugging' HK tech startups into the world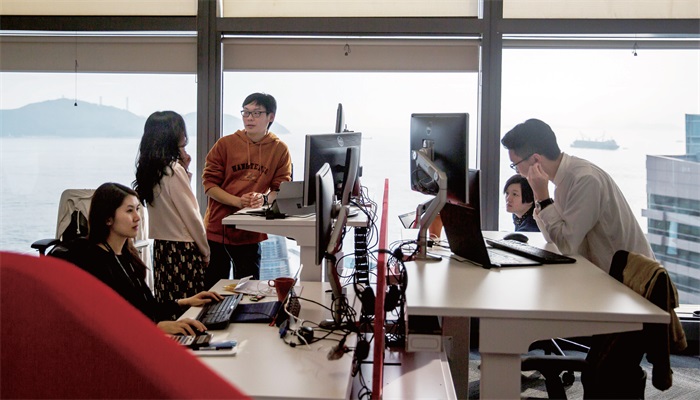 Times have never been better for Hong Kong's technology enterprises, particularly startups, with the central government's full blessings and the SAR putting money where its mouth is — making the city a top scientific and innovation hub in the region.
The push has taken on greater significance with President Xi Jinping's vow to help propel Hong Kong to becoming a global center for innovative science and technology and allow local scientific researchers to tap into the nation's funding program, while the SAR government is to plow HK$50 billion into developing the innovation and technology sector.
To address the problem of many startups in recruiting tech experts, the government will also introduce fast-track visas for inno-tech talents hired by local companies. Under the Technology Talent Admission Scheme, work visas for international inno-tech talents will take just two weeks to process.
According to Nicholas Yang Wei-hsiung, secretary for innovation and technology, Hong Kong last year registered 2,200 startups — a 16-percent growth in number from 2016.
Viola Lam founded technology startup Find Solution Artificial Intelligence (FSAI) in 2011. The company uses artificial intelligence (AI) technology to help students improve their learning efficiency, while allowing educators to monitor how well the students are acquiring new knowledge in real time.
Lam, whose company was incubated at Cyberport — Hong Kong's iconic digital community in Pok Fu Lam with a cluster of tech and digital incubatees — said her husband, who is an expert in the AI industry, helped her found the startup and, as she was born and raised locally, it's only natural for her to start an education-related enterprise in Hong Kong.
"Besides, Hong Kong's tax regime is very favorable to startups. To me, Hong Kong really is an ideal place to start a business."
Lam hailed the fast-track visa scheme as very helpful for startups like hers and as her husband is Dutch, it took quite some time for him and his Dutch colleagues to get the paperwork done and co-found the company in Hong Kong.
"I wish the scheme had got off years ago and it would have been so much easier for us. Trust me, it's quite necessary to bring overseas experts to the city and work with them side by side. As a founder of a tech startup, I understand the difficulty of working with people from different time zones. It was quite frustrating those days," she recalled.
According to Lam, they invested about HK$10 million to develop the software and since the company launched the learning application "4 Little Trees" five months ago, 70 local elementary and middle schools have been using the app for pilot programs, while 15 schools in Hong Kong have signed contracts with her company to use the learning system after seeing that the students' learning efficiency had improved.
FSAI's total sales have hit $2.5 million in the past five months. The company had raised $1 million through an angel investor from Japan, and is close to completing its Series A financing of $5 million, led by two Hong Kong investors.
Cyberport Chairman Lee George Lam told China Daily in an interview he believes that for any tech startup, regardless of whether it's founded in Hong Kong or Shenzhen, its best option is to come to Hong Kong if it wants to go global.
"Once they're in Hong Kong, at Cyberport, they're plugged into the rest of the world," Lee said.
Insight Robotics, a local startup lodged at Hong Kong Science Park — one of the city's two prominent campuses geared to the development of high-tech enterprises — has landed a $9-million investment from locally-based venture-capital firm Beyond Ventures and Linear Capital of Shanghai to develop firewatch technology.
Kevin Chan, co-founder and chief executive of Insight Robotics, said the company, which was launched in 2011, had originally intended to develop robots to detect survivors in the wake of natural disasters like earthquakes, but they eventually used the technology to help managers of forests and national parks detect fires.
The company's robot can be installed on towers, such as telecommunications masts, to scan nearby forests. When it detects a fire, it can pinpoint the exact location and send the latitude and longitude coordinates to the police or fire department automatically. The device can cover a radius of up to 10 kilometers.
Apart from putting robots on towers, Insight Robotics also provides drones installed with sensors to help spot fires in remote areas. The drones collect and analyze data, enabling managers to determine the species of trees in the forest and their growing conditions.
Insight Robotics is cooperating with Hong Kong's Agriculture, Fisheries and Conservation Department, as well as forestry bureaus of many provinces on the Chinese mainland. It has also sold equipment to overseas markets to help manage commercial forests.
Beyond Ventures, which was launched in July last year, says its mission is to revitalize Hong Kong's innovation ecosystem by bringing together local venture capitalists and entrepreneurs to invest in new ideas and startups.
Since its inception, the company has invested in five startups. Managing partner Lap Man likes Insight Robotics because it owns core technology, its products have a wide range of applications and it could rake in a profit within a relatively short period. These are the major criteria Beyond Ventures looks for in startups.
"We want everyone to know that Hong Kong is not all about the financial industry. Hong Kong has great technology startups like Insight Robotics. We're very confident about the company and the technology it uses," said Lap.
Contact the writer at sophiehe@chinadailyhk.com