Marathoners taking time to be tourists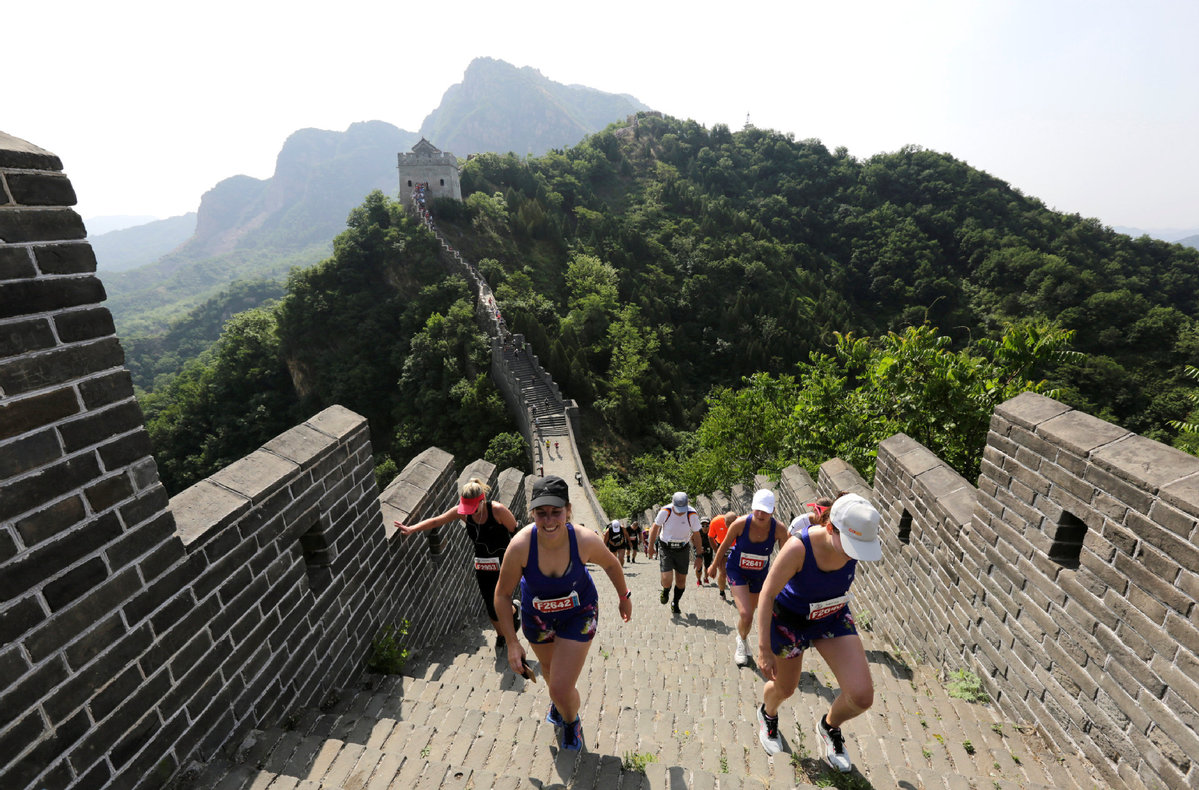 Chinese cities cashing in on global trend
Teng Yun, a 37-year-old book editor from Beijing, traveled to Changchun, capital of northeast China's Jilin province, to run the Changchun International Marathon last weekend.
Teng beat her personal best time in the race while enjoying her short stay in the city.
"People in Changchun are warm; I was greeted with cheers all the way to the finish line," she said. "I also learned a lot about the history, architecture and culture of the city."
Over the past few years, Teng has finished 10 marathons, five of which were outside Beijing. Her race calendar has taken her to Guangdong, Henan, Shaanxi, Jilin and Zhejiang provinces.
She left Beijing on Friday after work and returned late on Sunday. Aside from running, she sampled Changchun's local cuisine and visited some local tourist attractions.
Teng is part of China's growing trend of "tourist marathoners".
According to the Chinese Athletic Association (CAA), nearly 5 million people participated in 1,102 marathons around the country in 2017. The Changchun event attracted 30,000 runners from home and abroad.
In the 2017 Beijing Marathon, China's most renowned running event, 70 percent of the 98,687 registered runners were from outside the capital. In the 2017 Wuxi Marathon, out-of-towners accounted for a staggering 90 percent.
"Marathons are a great catalyst for tourism, with tens of thousands of people traveling to, staying, dining and shopping in a single city over several days," said Shui Tao, vice-secretary general of the CAA.
For each marathon trip, Teng spends an average of 4,000 yuan ($625). She said many runners spend much more.
Travel agencies also hope to jump on the bandwagon. Ctrip, China's leading online travel agency, offers dozens of marathon tour packages covering sign-up fees, accommodation and tickets to local tourist attractions.
Packages for domestic destinations usually cost a few hundred yuan, while packages for world-famous events in cities like London and Tokyo can cost tens of thousands.
Yan Bei, a senior executive for a Beijing-based securities firm, is the leader of Teng Yun's running club and one of many Chinese to venture abroad to race.
In 2016, Yan journeyed to Germany to compete in the famous Berlin Marathon, which attracted nearly 900 Chinese runners.
After the race, which she ran in 4 hours and 12 minutes, she visited Cologne and Frankfurt and reveled in sampling German food.
In 2017, Yan finished the Chicago Marathon, which saw nearly 2,000 Chinese runners take to the streets of the Windy City.
The two trips cost her nearly 50,000 yuan, but Yan thinks the expense was worth it.
"The events were like carnivals and everyone was having a good time," she said. "The atmosphere and sporting culture are what marathons in China can really learn from."
In December 2016, China's top tourism and sports administrations jointly issued guidelines to develop sports tourism, promising 100 sports-themed tourist destinations and 100 quality events by 2020.
In January, the General Administration of Sport of China, together with 10 ministries, issued an action plan on developing China's marathon industry, calling for integration of marathons and tourism, as well as diversified running events based on the characteristics of different cities.
Teng Yun's next targets are the Wuhan and Wuxi marathons.
"The food in Wuhan is great and Wuxi is a great city, too," she said.
As for Yan Bei, she is preparing for this year's New York Marathon. Her ultimate target is to finish the Abbott World Marathon Majors - six annual races in Tokyo, Boston, London, Berlin, Chicago and New York.
"Traveling across the world to race has enabled me to interact with different cultures and people, as well as opening my mind and broadening my horizons," she said.
Xinhua