China's sharing economy to grow 30% per year
Share - WeChat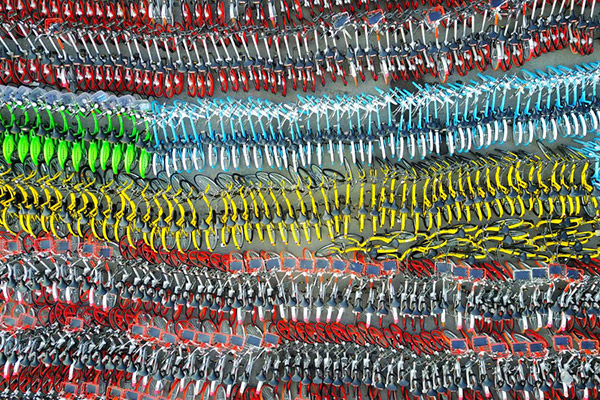 China's sharing economy is expected to keep a rapid annual growth rate of more than 30 percent over the next five years, as new opportunities might emerge in the fields of agriculture, education, medical treatment and elderly care, a government think tank said according to a People's Daily report.
The market turnover of China's sharing economy reached 4.9 trillion yuan ($763.5 billion) last year, a 47.2 percent increase from the previous year, according to a report released by the Sharing Economy Research Center of the State Information Center.
More than 700 million people were involved in the sharing economy last year, an increase of 10 million over 2016. The number of employees hired by shared platforms reached 7.16 million last year, accounting for 9.7 percent of new urban jobs created that year, the report said.
However, new problems, such as personal information leakage, waste of resources and unfair competition, have been popping up along with the sharing economy's high-speed development in the fields of transportation tools, accommodation, catering and treatment.
According to a recent notice on guiding and regulating the sound development of the sharing economy jointly released by government authorities, emphasis will be placed on the prudent introduction of new market access policies, the implementation of a fair competition review system and the serious handling of business practices which violate laws or regulations.
The notice has made regulations for the development of the shared economy using 11 criteria, which include building comprehensive governance institutions, promoting the implementation of classified governance, implementing enterprise's main body responsibility and standardizing market access restrictions.
Guo Xia, an invited research fellow at Peking University's China Center for Strategic Studies, said while the rapid development of the sharing economy reveals the incredible vitality and potential of Chinese economy, it is facing many challenges — such as personal information leakage, barbaric growth, unfair competition and insufficiency in protecting users' rights and interests, People's Daily reported.
Guo said the notice can be regarded as the government's response to the new problems and new situations emerging in the sharing economy.
"Toward the development of sharing economy, relevant government authorities have always adhered to the principle of tolerance and prudent supervision. We need to have a clear understanding of this: tolerance and prudence do not mean let the reins go completely," Guo said.
Lu Chuncong, director of the Policy and Economic Research Institute at the China Academy of Information and Communications Technology, said the reason behind problems with the sharing economy are complex and diverse, but a common issue is the main responsibility of shared platforms is not implemented properly.
The notice puts forward very specific requirements for the main responsibility of platforms, including supervising and promoting enterprises to improve the safety guarantee mechanism and to ensure the safety of consumers and their properties; strengthening identification and content management by combining manual examination with artificial intelligence, big data and other technical methods; and building a scientific, reasonable trading and pricing mechanism to ensure fair transactions.
In addition, in response to problems of personal information leakage, the notice points out supervision on platforms' behaviors of collecting, preserving, using, processing, sharing, transferring and public disclosure of personal information will be strengthened according to the rules of law.
Enterprises will be urged to use technical means of anonymity and de-identification to improve the level of personal information protection and prevent information leakage, damage and loss.
At the same time, shared platforms will be linked to the national credit information sharing platform, and local relevant institutions will be encouraged to publicly declare shared platforms' default-level behaviors — such as running a business without license, false advertising and deposit complaints — on the "Credit China" website.
"With the continuous innovation and improvement of supervision, the construction of a multi-party participation cooperative governance system will be accelerated, which will promote the standardization of the sharing economy and create a good atmosphere for its healthy development," Guo said.