Beijing may have response to Washington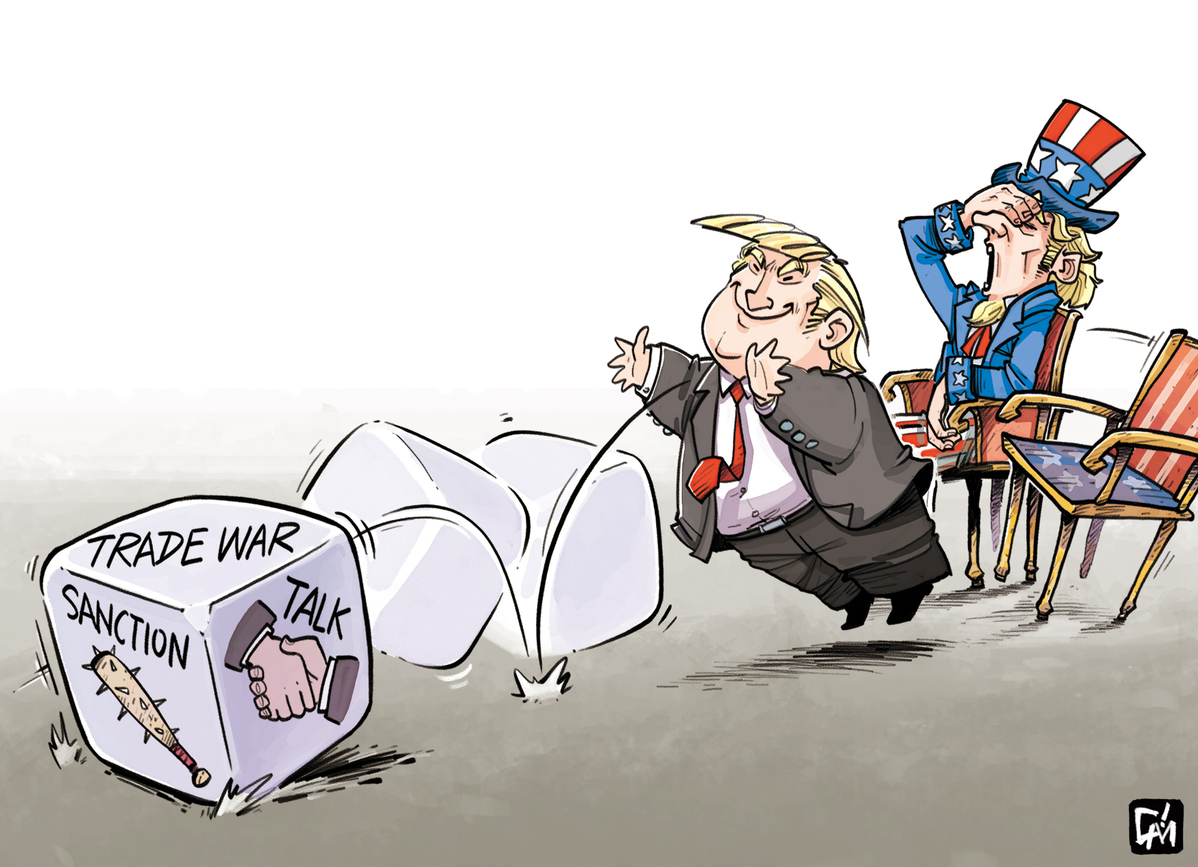 China will evaluate the influence of the renewed threat of restrictions the United States has placed on Chinese investment and exports and will reserve the right to take countermeasures, the Ministry of Commerce said on Thursday.
The recently announced US restrictions do not conform to the basic principles and spirit of the World Trade Organization, ministry spokesman Gao Feng said at a regular news conference on Thursday.
He said China does not want to see bilateral trade friction escalate and believes the two countries have a huge potential for cooperation based on extended common interests.
On Tuesday, the White House said it would place investment restrictions and tougher export controls on Chinese people and entities purchasing industrially significant technology in order to ensure US national security.
Even though trade tensions between China and the US had appeared to cool down following talks in Washington and the two countries issued a joint statement on May 20, the administration of US President Donald Trump said it would announce the list of imports subject to tariffs and proposed investment restrictions on China by June 15 and June 30 respectively.
Gao said China is always open for talks and confirmed that a US trade delegation of more than 50 people arrived in Beijing. He hoped that the two countries' negotiating teams would meet each other halfway and facilitate the consensus reached in Washington days ago.
James Gorman, chairman and chief executive of US investment bank Morgan Stanley, said it is worth noting that the US-China trade disputes are taking place within a broader global context of the US having trade discussions with the European countries, talking about redefining the North American Free Trade Agreement and having withdrawn from the Trans-Pacific Partnership agreement.
"I believe in open markets and free trade around the world. I think it's constructive to the largest economy in the world to find a solution to trade disputes without them becoming a major economic crisis," Gorman said.
While the Trump administration follows an "America First" agenda, China has been promoting global free trade and ramping up domestic reforms, the American Chamber of Commerce in China said in the 2018 American Business in China White Paper released on Wednesday.
The white paper said US companies in China are more optimistic and confident in growth, thanks to continuous efforts by the Chinese government to improve the business environment for foreign companies.
As was pointed out at the State Council's executive meeting on Wednesday, China's domestic consumption will surpass that of the US this year, and visionary companies will not want to miss the prospect of the Chinese market, Foreign Ministry spokeswoman Hua Chunying said at a news briefing on Thursday.
Trade experts suggest that China should respond in kind to the Trump administration's renewed threats of tariffs on Chinese goods.
Mei Xinyu, a researcher at the Commerce Ministry's International Trade and Economic Cooperation Institute, said, "China can accept measures that comply with international rules, but it will not accept those coming from another country's domestic law."
"We must prepare for all possible contingencies to deal with the Trump administration's capricious acts," Mei said.
"External interference by the US cannot deter China's pace of further opening and upgrading its economy," said Chen Wenling, chief economist at the China Center for International Economic Exchanges.
Such continual efforts are not driven by external pressure of trade conflicts, she said, but underpinned by China's firm stance to further enrich and diversify the national economy via reform and opening-up policies.