A moral imperative
Share - WeChat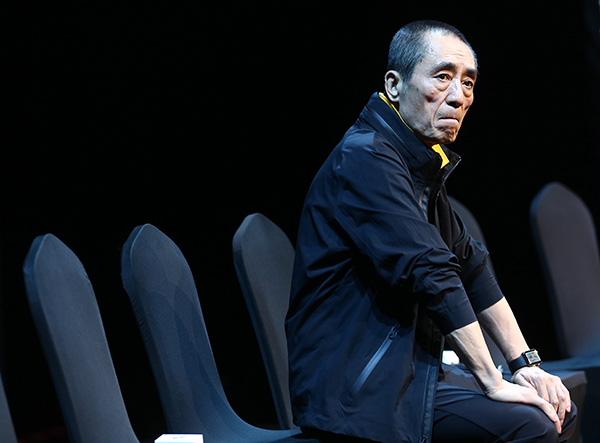 According to He Lulu, assistant director of both the first and second seasons of 2047 Apologue, the team has traveled the world to find the right artists for season two.
In the original show, they invited 78-year-old Wu Shuxiang from Anhua, in Southwest China's Guizhou province, to display her weaving skills with her 200-year-old loom. Wu Shuxiang, from the Miao ethnic group, learned the skill from her mother and she had never performed onstage before.
In the new production, the team will bring three retired loggers from Fujian province-Lin Longyou, Lin Beixiang and Lin Yongzhao-all of whom are more than 75, to perform ancient songs from their hometown-some of which date back nearly 300 years.
More than 20 singers, aged between 5 and 69 years old, who form the Poya Songbook Chorus, from Poya village in Yunnan province, Southwest China, will also perform. Poya Songbook is an ancient collection of folk songs written on a piece of hand-woven cloth in hieroglyphic symbols. It originated from Poya village in Yunnan province. It is the only discovered record in the world which documents songs with hieroglyphics. In 2011, the Poya Songbook was added to the list of National Intangible Cultural Heritage.
International performers will include a Hungarian shadow theater group Attraction Performance; Turkish design duo Ezratuba and Tetro, LED installation artists from France.
Last year, Andy Flessas (aka Andy Robot), a Las Vegas-based roboticist and computer animator who worked with NASA's Jet Propulsion Laboratory and also with Lady Gaga, performed in the first season of 2047 Apologue. Now, Flessas will bring more of his mechanized performers to the stage for season 2 of 2047 Apologue.
"Robots are like wild animals," explains Flessas. "I train robots like training tigers. The first time we had four robots and this time we have nine.
"In the first season, my job was to train the robots to understand dancing," he reveals, "In this season, I teach them how to work with musical beats.
"Zhang gives me gift to find my greatest potential," he continues. "I am doing something that I never thought I could do until I came to China."
Besides films, Zhang has been pushing boundaries during the past 30 years. In 1998, he directed a version of Puccini's opera Turandot, and he was also the director of the opening and closing ceremonies of the 2008 Beijing Olympic Games.
"We want to show the audience something they have never seen," he says. "It takes lots of sleepless nights to create these original pieces, and is a nerve-wracking process.
"It's much more complicated to make this show, compared with directing movies," he says, "but what attracts me to it, is that I can learn lots of new things by working with these artists."
He hopes to expand 2047 Apologue beyond the first two seasons and he is keen to surprise the audience as well as hear their feedback.
"There have been many different views from the audience and critics about my movies," he says. "I am looking forward to their views about 2047 Apologue 2."