BYD to increase market presence of SkyRail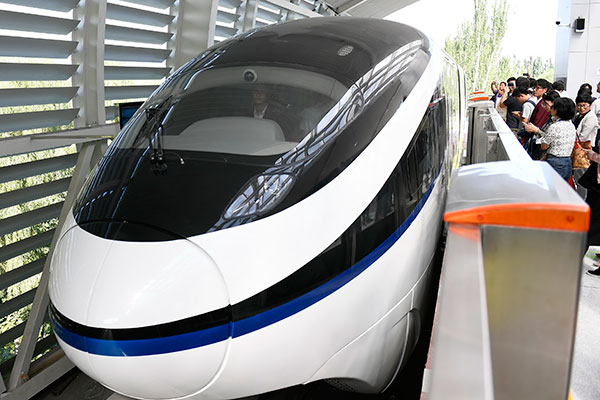 Monorail project to play an important part in carmaker's overseas evolution
New energy carmaker BYD is speeding up plans to expand the market for its SkyRail monorail mass transit system as it is under growing pressure due to electric vehicle subsidy cuts.
The Shenzhen-based firm told China Daily it is in discussions over eight SkyRail deals in the Americas, including the US, and expects to finalize at least two deals this year.
On Thursday, it announced that the first SkyRail project in Latin America will be built in Salvador, the fourth-largest city in Brazil, according to an agreement newly-signed. The $689 million project is scheduled to begin construction in the fourth quarter of this year and start operations in 2021, providing transportation for 3.8 million residents in the city.
The 20-kilometer route needs to traverse both the downtown area and mountainous regions, and will extend across a stretch of water to an offshore island. Such complicated terrain brings high technology demands such as an extremely narrow turning radius and strong grade ability.
BYD's Senior Vice-President Stella Li said SkyRail's turning radius is only 45 meters and it can climb 80 meters over a distance of 400 meters. Its one-way transportation capacity is 10,000 to 30,000 people each hour.
"The SkyRail will provide the residents of Salvador with a low-carbon and more convenient way of traveling," Li said, "and this project is an important milestone in our global evolution."
After five years of research and development costing 5 billion yuan ($783 million), Sky-Rail was first tested in Yinchuan, capital of the Ningxia Hui autonomous region, and was upgraded to automatic driving last year.
The monorail business is now one of BYD's four key sectors, which also include cars, mobile phone components and batteries, and the company has signed dozens of domestic and international deals, including those in the Philippines, Egypt, Morocco and Cambodia.
It has been contributing to the company's finances since the second half of last year when the manufacturer posted a decline in net profits. The electric vehicle subsidy cut continued to drag down its net profit in the first quarter of this year by 83 percent year-on-year.
SkyRail business will generate revenue of about 15 billion yuan this year and 18 billion yuan in 2019, accounting for about 10 to 20 percent of BYD's total revenue, according to Zhuang Dan, an analyst at RHB Research Institute.
However, industry experts are concerned about the market size. Zhang Xi, an analyst at Guangdong Transportation Research Center, said straddle monorail is a mature technology that Japan, Canada and many European countries have been developing for years, and is more suitable for new medium-sized and small cities, rather than large ones.