China's 1st report on SOE overseas social responsibility published
Share - WeChat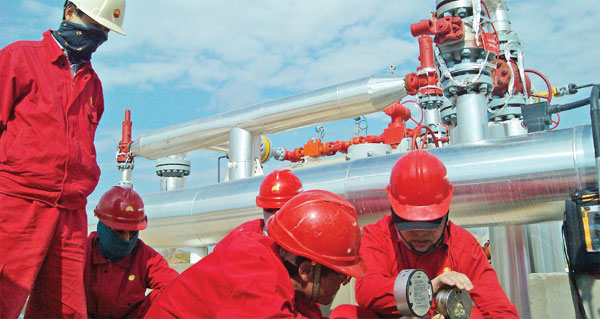 China's first research report on central State-owned enterprises' overseas efforts in carrying out social responsibility was published, announced this Friday during the launch ceremony of a related project.
The report pointed out that about 61.5 percent of enterprises lacked trained professionals in the field, and 32.3 percent surveyed said they needed a better understanding of local cultures and legal systems in order to better carry out their corporate social responsibility (CSR) efforts.
"Actually, China's SOEs have been actively contributing to local economic development and environmental protection in the past few years, but their efforts have been little known to the public," said Zhong Hongwu, director at the Research Center for Corporate Social Responsibility at the Chinese Academy of Social Sciences (CASS).
"For instance, we heard a central enterprise invested 50 million yuan ($7.8 million) in building a bridge to make local transportation more efficient, but zero news was published on the subject." Zhong added.
Zhong said that many central enterprises lacked specialists in communications and public relations, and trained professionals to cooperate with local organizations.
"Cross-cultural communication matters a lot in carrying out overseas CSR efforts for central SOEs, especially in the sector of community service," Zhong added. "It also matters to enterprises' daily operations as they employ workers from different cultural backgrounds."
The report also suggests closer cooperation with local charitable organizations for a smoother communication process and more efficient CSR operations. It also calls for an evaluation system of central SOEs overseas CSR performance from the State-owned Assets Supervision and Administration Commission of the State Council (SASAC), the country's regulator for SOEs.
"Central SOEs, however, have been doing a good job in environmental protection sectors," said Zhong.
According to the report, 70.1 percent of enterprises surveyed said they sought advice from third-party consultancies before carrying out related efforts.
"Many of our enterprises have their overseas branches adopting the latest technology in terms of production and environment, and some of their technologies are even more advanced compared with those at their domestic headquarters." Zhong said.
"However, not a lot of people are aware of that and plenty of them hold an opinion that those enterprises' overseas operations are there to transfer production and manufacturing that was no longer encouraged in China due to environmental concerns. That is completely untrue," Zhong added.
"We also encourage enterprises to release their own CSR reports," Zhong said.
The report, namely Research Report on Overseas Social Responsibility of Central Enterprises (2017), was released by the Research Center for Corporate Social Responsibility at the Chinese Academy of Social Sciences (CASS), which also plans a report on overseas CSR efforts from SOEs involved in the Belt and Road Initiative in cooperation with SASAC.
The report also evaluated central SOE efforts in environmental protection, community service and five other sectors based on research on 72 central SOEs, and covers eight case studies including China Communications Construction.
Currently, overseas investments by China's SOEs enjoy an annual growth rate of 15 percent, and their overseas assets have now surpassed 6 trillion yuan across 185 countries and regions.