Chinese consumer electronics retailer tests heavy-duty driverless truck
Share - WeChat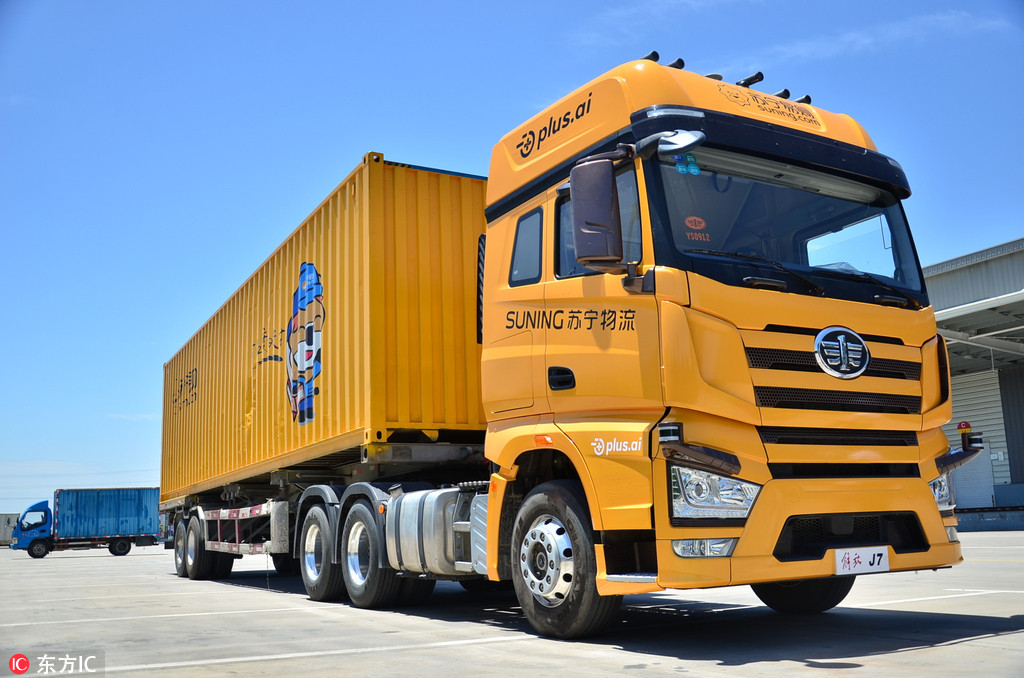 SHANGHAI - China's consumer electronics retailer Suning on Thursday tested its newly-developed heavy-duty driverless truck in a logistics park in Shanghai, setting foot in the driverless vehicle manufacturing.
The 40-ton truck was developed by the Jiangsu Suning Logistics Co Ltd, the logistics arm of the Nanjing-based retail giant, in partnership with the Chinese tech firm ZCO Design.
Luan Xuefeng, deputy head of Suning's logistics institute, said heavy-duty trucks normally ran in traffic conditions simpler than those for passenger vehicles. International smart car makers including Daimler AG and Tesla are also working on the development of driverless logistics vehicles.
He said that Suning's driverless truck could detect a moving object 300 meters away, when driving at a test speed of 30 kilometers per hour. Its brake reaction time is 25 milliseconds, much faster than for human drivers.
Luan said all trucks with electric power steering and automatic gearboxes could be converted into driverless trucks, once equipped with the self-driving system.
"The modification costs less than $10,000 per vehicle with Suning's current technology," he said.
Suning Logistics mainly serves its parent company's retail business. It has also taken orders from Alibaba's logistics arm after Alibaba acquired shares from Suning and became its second largest shareholder in 2015.