'Sugar daddy' app banned from WeChat
Share - WeChat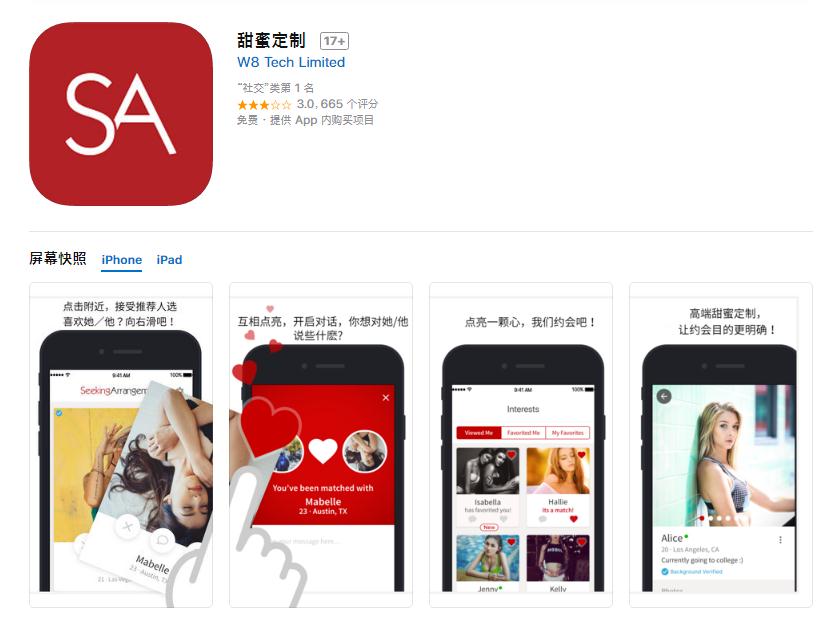 Having soared to become one of the most-downloaded iPhone and Android apps in China within three days, the dating website SeekingArrangement was banned on Thursday from WeChat, the country's most-used social networking platform.
Infamous for connecting wealthy older men with young women online, and sometimes referred to as a "sugar daddy" app, SeekingArrangement entered the country in 2015 with a Chinese language site and apps. It has been in the spotlight since Tuesday, after the Global Times newspaper posted an article calling for the government to shut down its business in China for arranging "sugar dating". The article had been clicked more than 740,000 times as of Thursday.
Yi Shenghua, a criminal lawyer, said the services provided by such websites, though disguised as dating or matchmaking, can be classified as organizing or sheltering prostitution, and the website's founder and operator could face criminal charges, depending on the amount of cash traded and the number of people involved.
Administrators of the Shanghai Free Trade Zone, where the website's Chinese business is registered as an information technology company, said local police and government bodies have begun investigating the case.
"Our Chinese product is exclusively developed for the local market and would definitely abide by the law here," a worker at SeekingArrangement told China Daily, insisting on anonymity.
He argued that the Chinese website and applications are designed as a premium platform that functions like any other legal dating site in China. The only difference would be that it targets "successful men of high quality and fine taste".
He added that the company has zero tolerance for words such as "sugar daddy" or "sex-for-cash" in its members' profiles, which are all screened manually by staff members.
But the platform does ask its male members to list their financial status during registration-annual income starting from 300,000 yuan ($47,350), and net assets from 600,000 yuan, though the company acknowledged that it doesn't require any bank documents for verification.
Males are also required to pay a monthly membership fee of 400 yuan, while females can choose between enjoying free services or paying 100 yuan a month to have access to more functions.
SeekingArrangement was created in 2006 by Brandon Wade, a Singaporean-American who has been quoted as saying "love is a concept invented by poor people". Its Chinese platform now claims around 300,000 registered members and is growing steadily at 20 percent year-on-year. The proportion of male to female members is now about 50-50, according to the company, though it said it would prefer to raise the percentage of females to provide higher-paying male members more candidates to choose from.
"Matchmaking success with beauty is a universal value and common pursuit of humans," the worker at SeekingArrangement said.
Shi Jing contributed to this story.