CVL boosted by ratings spike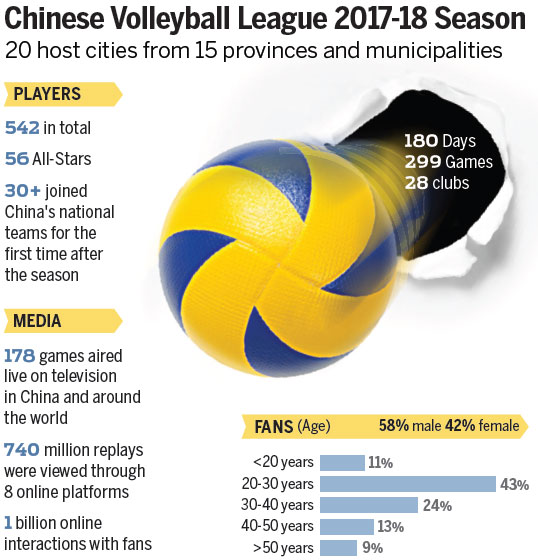 The Chinese Volleyball League's ambition to become the sport's premier competition has been boosted by impressive online ratings.
The league's 299 matches last season racked up 740 million views online and generated a billion interactions with fans, a media conference in Beijing was told on Monday.
"Our goal is to become the best volleyball league in the world," said Eric Gao, chief executive of iRENA, the CVL's business operation partner.
"This is the first year of the CVL's reforms. It's just a start. Through big data, we can compare ourselves with other sports leagues in the world to find out our advantages and the aspects that need more work."
A series of reforms, including a new competition structure and the targeting of younger fans online, were rolled out last season, which wound up in April.
Launched as a 16-team league in 1996, the CVL now features 28 clubs in 20 cities across 15 provinces and municipalities.
Despite severe competition from the likes of basketball and e-sports, the CVL has also managed to make inroads into its targeted younger markets, with 43 percent of last season's spectators aged 20-30, 11 percent under 20 and only nine percent over 50.
Unlike many leagues, the CVL has steered clear of exclusive copyright and instead operates a policy of sharing content in order to gain maximum exposure.
A fresh approach to new media has been key to the ratings hike. The 740 million online views were generated from about eight online platforms owned by big players such as Sina, Alibaba and Tencent.
Last month's All Star weekend in Shenzhen, Guangdong province, racked up 12 million online viewers and 25 million interactions, and attracted a 10 million yuan ($1.5 million) investment by iRENA in the new media platform.
Another major goal of the CVL is to nurture more talent for China's national teams.
"We always have to think about how to send more and more outstanding players to our beloved men's and women's national teams," said Gao.
"Chinese people love volleyball, especially the women's team. We hope that our national team can maintain its strength and keep winning."
Now the league is embracing more foreign talent while at the same time encouraging homegrown stars to pursue their dreams on the global stage.
Team China captain Zhu Ting, the world's most expensive player who began her career in the CVL, is now playing in the Turkish league and has helped draw global attention to the sport.
Meanwhile, the CVL is churning out exciting new talent, with Tianjin's 18-year-old Li Yingying becoming the youngest player in the league's history to break the 800-point mark.
She also broke Zhu's record with 45 points in a single match.