Carrefour launches first smart store
Share - WeChat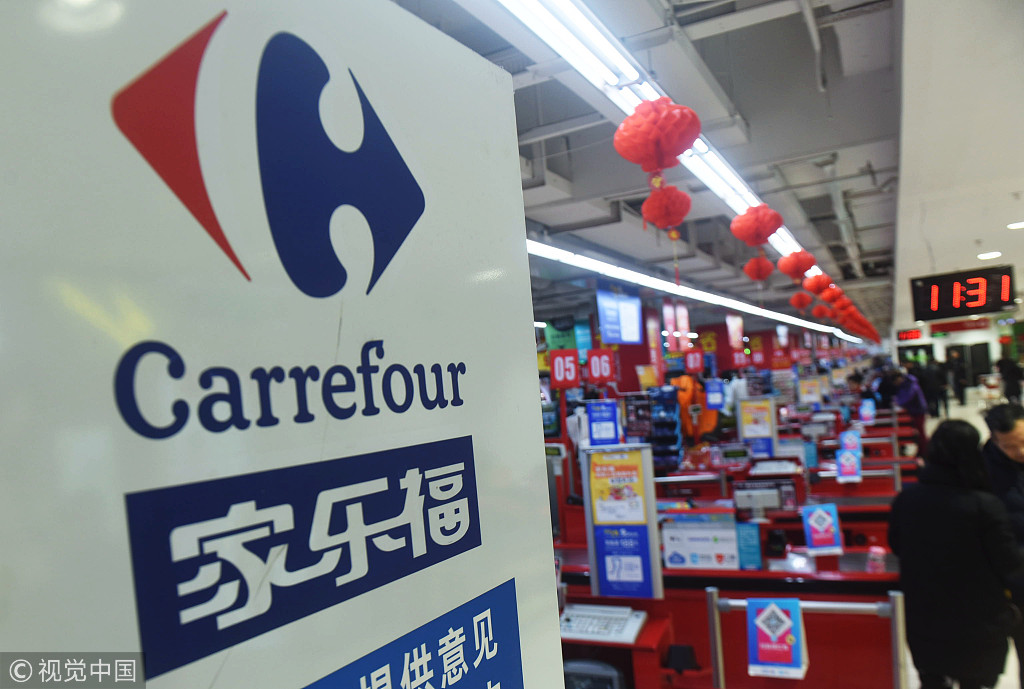 French hypermarket chain Carrefour SA opened its first smart retail store on Sunday in Shanghai, featuring technologies ranging from facial recognition payment to personalized mobile advertisements backed by internet giant Tencent Holdings Ltd.
Named Le Marche, the 4,000-square-meter shop marked the first step the partners have taken to rejuvenate conventional retail with internet-enabled services, four months after a Tencent-led investment plan for the French retailer was announced.
All items sold in the store have a distinctive bar code that customers can scan using Tencent's WeChat, the ubiquitous messaging and payment mobile app that boasts over one billion monthly active users.
Customers can then either pay with WeChat Pay and leave via a designated passageway, or activate the facial recognition function embedded in the digital wallet at the counter, and choose to pay with a smile.
Thierry Garnier, CEO of Carrefour China, said the smart store aims to bring in a new generation of digitally savvy consumers and serve as an experience center filled with innovative endeavors.
"Tencent will help us better manage our 30 million existing members in China, while popular WeChat Pay is also expected to bring in more traffic," he said.
Currently, self-service mobile payment still requires on-the-spot verification at checkouts. But Tencent is working to "minimize human intervention" by installing new hardware and upgrading software, said Bai Zhenjie, operations director at WeChat Pay, without elaborating.
In addition to facilitating payment, Tencent is also extending its entire suite of digital marketing tools built into WeChat, from in-app functionality Mini Programs, advertising placements on WeChat Moments, a Facebook-like mobile news feed and Tencent Video.
"Consumption data collected via WeChat Pay can help us pinpoint customers and predict their preferences. We can feed promotional deals to attract new customers, or push in-app notifications to engage with recurring shoppers," said Tian Jiangxue, deputy general manager in charge of strategy at Tencent Smart Retail.
Fan Yijin, an executive at Tencent's online media business group, said the duo are joining hands to shoot a show featuring gourmet food, and plan to distribute it via multiple channels including Tencent Video.
"The program is likely to show viewers how to cook certain dishes based on materials that can be purchased from Carrefour, which could draw both existing and prospective buyers."
Carrefour saw sales ebbing 6.6 percent in the first quarter from a year ago in China, where it faces fierce competition from local players and a buoyant online market.
The retail group has been struggling to compete with strong players in the market in recent years, and the latest moves could be seen as an exploration of options to improve business performance, according to Jack Chuang, a partner with OC&C Strategy Consultants.
Both Tencent and archrival Alibaba Group Holding Ltd are betting on various technologies to uproot traditional grocery and department stores, hoping to boost orders, amass purchasing data and have storefronts double up as last-mile delivery centers.