Art & Craftsmanship
Share - WeChat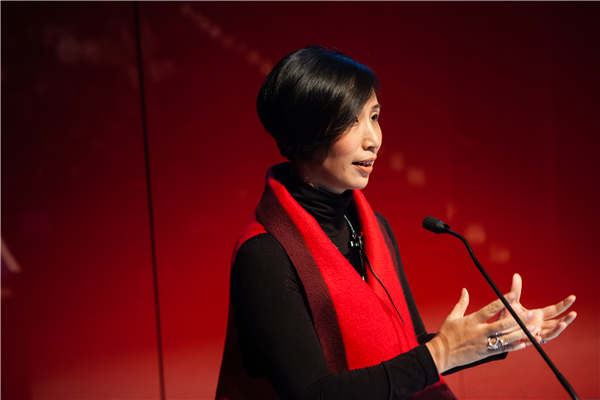 Shanghai-born artist, Jiang Qiong'er, is moving heaven and earth to ensure that traditional craftsmanship remains relevant through functionality and the art of modern living.
Taking pride of place in its newly-refurbished Sir Joseph Hotung Gallery of China and South Asia, a red lacquer box, designed by Chinese artist Jiang Qiong'er, is one of the British Museum's latest acquisitions.
Designed by Jiang and lovingly crafted by Gan Erke, the "Xi Pi Lacquer Heaven and Earth Lidded Box" is a masterpiece that combines Chinese traditional craftsmanship and modern design, perfectly embodying the cultural heritage of Chinese lacquer making - a tradition that has continued for thousands of years.
The box, with an outer diameter of 352 millimeters and a height of 55 mm, took 18 months to make and the shape is inspired by a traditional Chinese zan plate. Zan means "to gather" in traditional Chinese and a zan plate gathers several small plates and forms a round, or flower, shape signifying happiness and completeness.
The body of the box is crafted from black wood and treated using the traditional Chinese lacquer technique - using red spot Xi Pi lacquer for the surface and refined black polished lacquer for the inside - creating a rippled pattern that emulates floating clouds or running water; ever-changing, never predictable.
Jiang, 41, is the founder and CEO of Shang Xia, which is backed by French luxury company Hermès. The core philosophy of Shang Xia's style is lightness, purity, simplicity, comfort and emotional touch.
"I feel honored that a Shang Xia work has become part of the permanent collection of the British Museum," the Shanghai-born artist says. "It represents not only the recognition and support of the world's top art hall to Chinese contemporary design and craftsmanship, but is also motivation for the cause we are following.
"I want to start from the original source of living art to seek the true meaning of craftsmanship in contemporary life."
This is not the first time that one of the world's top museums has acquired one of Shang Xia's designs. In 2014, Christie's Auction House held a special sale of 20 Shang Xia limited edition treasures, noting that the pieces resonated with modernity, a sense of design, craftsmanship and rare raw materials.
It was the first time an auction had been held for Chinese artworks with such contemporary design and all 20 pieces were sold, with some fetching a handsome return.
Later, one of the museums with the most renowned Asian collections in Europe - Musee Guimet - purchased three Shang Xia pieces including a "bamboo living space."
Additionally, the Musees des Arts Décoratifs in Paris also houses some of Shang Xia's works, including the "Shang Xia Da Tiandi Brown Xi Pi Lacquer and Carbon Fiber Table" and "Fuqi Agate Cups".
The British Museum expressed a desire to acquire one of Jiang's pieces to its permanent collection back in 2015. Throughout the whole design, creation and production process, they paid several visits to China to document the creation of the piece, shooting lots of video footage and images of Jiang and the craftsman.
Most Popular