Film exploring autism screened at Chicago fest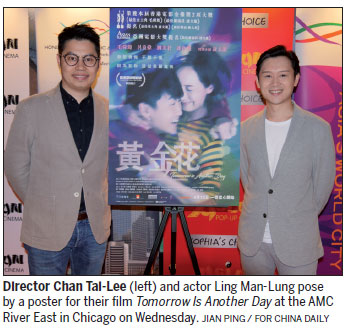 An award-winning Hong Kong film that examines the struggles a family faces with an autistic child premiered in the US on Wednesday.
The closing night of the Asian Pop-up Cinema's Season Six Asian Film Festival buzzed with excitement for a sold-out screening of Tomorrow Is Another Day at the AMC River East in Chicago.
The reception and screening were attended by the film's director Chan Tai-Lee and award-winning actor Ling Man-Lung.
Hong Lei, Chinese consul general in Chicago, made an appearance to show support.
"This is an important film," said Hong. "It brings more awareness to the challenges that autistic children and their families face in public."
The film has been released in Hong Kong and on the Chinese mainland.
Chan, 37, said that watching a mother with an autistic child catch a bus near a housing project where he used to live inspired him to write a story about an autistic child.
"I was moved and wanted to write about a mother's love for an autistic child," Chan said.
The story eventually became his debut feature film.
Tomorrow Is Another Day has won two Hong Kong Film Awards for outstanding performances from actress Teresa Mo and actor Ling Man-Lung.
In the film, the mother, Mrs. Wong, discovers that her husband is having an affair as the family deals with the stress of caring for the autistic child.
When the mistress comes to their home to disturb their life and her husband leaves after a fight, Wong plots her revenge.
But in the run-up to the plot, she discovers that her son notices all that is happening in the family, and in his limited way of expression tries to prevent her from seeking vengeance.
"I tried to present the story as a mixed drama," said Chan. "One angle is family oriented, a realistic presentation about an autistic child and how the family deals with it. And the other is the mother's attempt to avenge her husband's mistress. I combined the two to make it more dramatic."
The approach was applauded by Ron Falzone, associate professor at Columbia College in Chicago, who moderated a discussion about the film with the filmmaker and actor at the theater after the screening.
Falzone said that he appreciated that the film doesn't just portray a mother sacrificing herself to care for an autistic child, but it presents another perspective on her life and inner emotions.
Ling, 32, who portrays the 20-year-old autistic man in the film, said that he spent three months with two families that have autistic children in an effort to observe their behavior and understand them.
"So I can act more realistically as an autistic child," he said.
Ling received the first Bright Star Award for his performance in the film from Asian Pop-up Cinema.
"I found the film very moving and the performance amazing," said Bronwyn Poole, an Asian Pop-up Cinema board member. "People's reaction toward an autistic child is the same in Asia as it is in the US."
Linda Gacsko, a professional in the film industry, concurred.
Gacsko said that a scene in which the autistic child has an episode "clearly shows how the family embraces him. That's well done."
Fans lined up to take photos with Chan and Ling after the screening.
"This is our third year presenting the Asian Film Festival," said Sophia Wong Boccio, founder and executive director of Asian Pop-up Cinema. "Having filmmakers attend the festival is certainly a big draw to our audience."
"Our next season will start in September," Boccio said. "Please join us when we 'pop-up' again."