Enterprises play key role in boosting China-India ties
Share - WeChat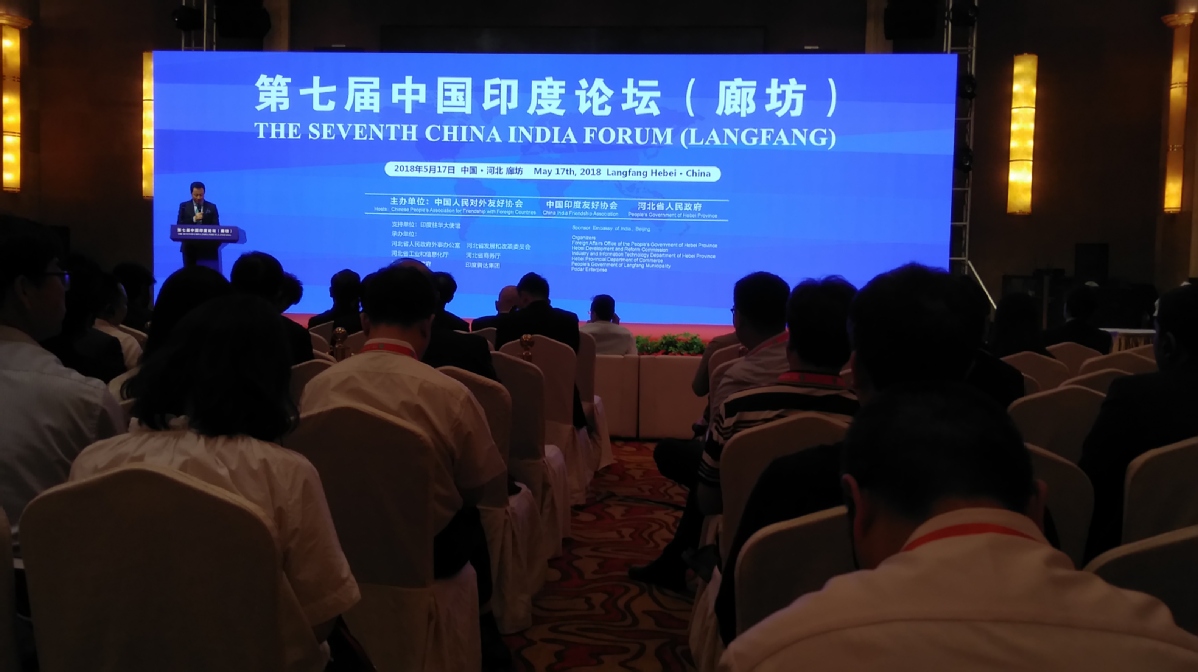 Chinese and Indian enterprises are playing essential roles in enhancing China-India ties and the development of both countries, according to the seventh China-India Forum that opened Thursday in Langfang, North China's Hebei province.
Xia Yanjun, vice-governor of Hebei province, introduced at the opening ceremony of the forum that there are 16 Indian enterprises operating in Hebei and 10 Hebei firms that are tapping the Indian market.
"The Beijing-Tianjin-Hebei coordinated development strategy, the creation of Xiongan New Area and also the upcoming Beijing-Hebei Winter Olympic Games endow the province with enormous opportunities for economic and social development. And there is huge space for enterprises from India and Hebei to cooperate in various fields to boost both sides' development," Xia said.
Qiao Xiaolin, deputy director of Hebei Development and Reform Commission, said at the forum that several Hebei enterprises, through overseas investment projects, have participated in the industrial construction of India and Hebei is actively conducting industrial restructuring aimed at welcoming more Indian companies to China.
To grab the development opportunities, many Chinese and Indian companies have strived to set up more new cooperation models to achieve a win-win situation.
Yang Zhe, president of China Fortune Land Development International, said at the forum that new industry parks overseas, which can provide integrated services, including site selection, information, supporting facilities and investment promotion, function as an impetus to bring more Chinese companies abroad.
Shanghai-listed China Fortune Land Development (CFLD) Co Ltd is a Chinese operator and builder of "new industrial cities".

According to Yang, the development of CFLD's overseas new industry parks is attracting a number of advanced Chinese enterprises to launch factories abroad and invest in the local economy, which boosts local employment and helps achieve win-win results.
India's Podar Enterprises and Hebei province are working together with a goal of building a software industrial park in Hebei to help the province's industrial upgrading.
Rajiv Podar, managing director of India's Podar Enterprise, said that cooperation is the order of the day and many Chinese companies have established offices in India and there is huge potential for further collaboration.
Enterprises and manufacturers of both China and India have contributed more and more to the development of bilateral ties.
Lin Yi, vice-president of the Chinese People's Association for Friendship with Foreign Countries, observed that Chinese and Indian enterprises have become the mainstay of China-India exchanges.