Positive signs in China-US trade talks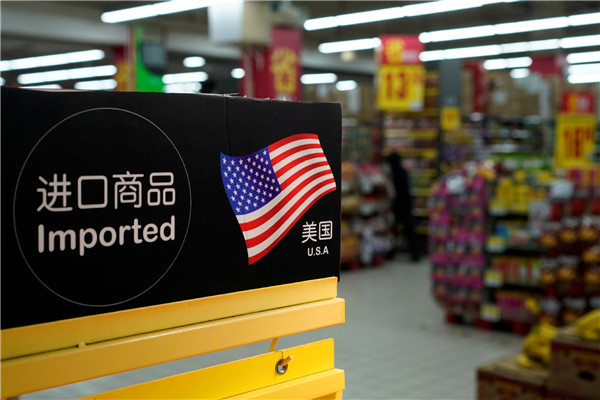 Both China and the United States saw positive signs before the third round of trade talks to negotiate disputes between the two largest economies in the world.
A delegation headed by President Xi Jinping's special envoy and Vice-Premier Liu He arrived in Washington on Tuesday afternoon for economic and trade consultations with the US side at the invitation of the US government.
The delegation members, coming from major economic sectors of the Chinese government, include Governor of the People's Bank of China Yi Gang, Vice-Chairman of the National Development and Reform Commission Ning Jizhe, Deputy Director of the Office of the Central Commission for Financial and Economic Affairs Liao Min, Vice-Foreign Minister Zheng Zeguang, Vice-Minister of Industry and Information Technology Luo Wen, Vice-Finance Minister Zhu Guangyao, Vice-Minister of Agriculture and Rural Affairs Han Jun, as well as Vice-Minister of Commerce and Deputy International Trade Representative Wang Shouwen.
The two new members of the delegation are Vice-Minister of Agriculture and Rural Affairs Han Jun and Vice-Minister of Industry and Information Technology Luo Wen, neither of whom attended the China-US talks on trade and economic issues in Beijing earlier this May, when a senior US economic delegation led by Treasury Secretary Steven Mnuchin visited China.
On Sunday, US President Donald Trump said in a tweet he and President Xi Jinping are working together to give Chinese telecom company ZTE Corp "a way to get back into business, fast."
"Commerce Department has been instructed to get it done!" Trump wrote.
Several days ago, more than 1,100 economists sent a letter to United States President Donald Trump and the US Congress warning against the growing protectionism of the country's trade policies.
The letter says tariff moves would restrict the flow of goods and capital and increased protective duties would be a mistake.
500 CFOs from around the world also expressed deep concerns about US policies that would restrict the flow of goods, capital and people.
As such, this consultation is thought to be a crucial one; the Chinese delegation is under pressure to defend the core interests of the country, as well as the multilateral free trade system and global free trade.
Meanwhile, the US side faces serious risk of pricing itself out of the market, or causing the talks to fall apart. Were either to happen, it would lead to enormous economic loss.