Trying to escape the shadow of Wenchuan
A new life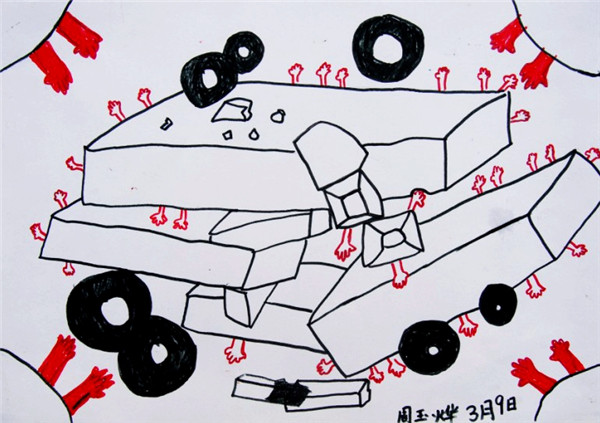 "Ten years have passed. Many people seem to have forgotten the earthquake," said Zhou Yuye, now a grade-two student at a high school in Dujiangyan, Sichuan, which was shielded from the full force of the earthquake.
"The students made fun of my cosmetic arm behind my back. That made me feel hurt and inferior," she said.
Ho Kam-wa, an expert maker of prosthetic limbs who works for a charity in Hong Kong called Stand TALL, showed great concern for Zhou Yuye. Ho, who has known the girl since October 2009, created a prosthetic arm for her free of charge. At first, he checked Zhou's condition once a month, then every two months. Now, the checkups take place every quarter.
"Ho always talks to me in a gentle way. He has taken good care of me for 10 years," Zhou Yuye said.
Knowing that the young adult pays attention to her appearance and cares about how others see her, Ho said a bionic arm will make her life easier and won't attract attention from curious strangers. "She will soon start university and enter society," Ho said. "The cosmetic arm cannot meet her needs any longer."
Ho recently asked prosthetics maker Alex Xie Yi from Ossur, a company in Iceland that specializes in prosthetics, and injury recovery services, to make a bionic arm for Zhou with realistic translucent skin that will look like a natural limb.
Ossur has cooperated with Stand TALL to provide free bionic arms to all the earthquake survivors who underwent amputations. Xie explained that signals sent from the wearer's brain to nerve-endings in the muscles prompt the prosthesis to move. Each finger has a separate motor so it can move independently.
Zhou Yuye was excited after trying the bionic arm. "I can tie up my hair or lace my shoes! I do not need to ask other people for help anymore," she said.
However, she will not be able to wear her bionic arm immediately. When Xie tested the single remaining muscle in her arm, he discovered that it is not yet strong enough to operate the new limb.
"She has not used her left arm for 10 years. It will take time for her body to get used to the movement," Xie said. "Also, only part of her elbow was kept, which means she cannot bend her arm more than 90 degrees."
Xie has instructed Zhou Yuye to undertake bending exercises twice a day for an hour each time. He will check her progress in the coming weeks. He hopes the bionic arm will restore her mobility to some extent.