Dance drama pays tribute to landmark railway project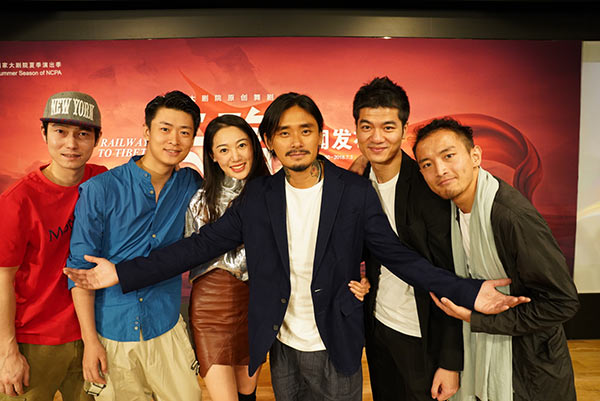 In 2001, when composer Yin Qing read the news about the start of the construction of the Qinghai-Tibet Railway, he was very excited and wanted to do a song on the subject.
The railway, which is 1,956 kilometers long, is the world's highest line, and the longest built on a single plateau. At its highest point, it is 5,072 meters above sea level.
The railway connecting Tibet with the rest of world, links Xining-the capital of Qinghai province-with Lhasa, the capital of the Tibet autonomous region.
Explaining how the song came about, he says: "I have traveled several times to Tibet and I was impressed by the beautiful scenery and the local people. It is a magical and inspiring place."
The Beijing-based composer, who along with his friend, lyricist Qu Yuan, Yin wrote a song, titled Road to Heaven. And it was later performed by pop star Han Hong and became one of Han's best-known hits.
In July 2016, when the National Center for the Performing Arts decided to produce a dance drama to mark the 12th anniversary of the opening of the Qinghai-Tibet Railway, Yin was invited to be the music director of the dance drama. And he then decided to use song in the dance drama.
The dance drama, titled Road to Tibet, will make its debut at the NCPA over June 30-July 3.
Speaking about the unique subject of the dance drama, NCPA's vice-president Zhao Tiechun says: "The construction of Qinghai-Tibet Railway was a key project of the country's 40-year reform and opening-up. And people from around world have enjoyed unique culture of Tibet by traveling on the railway."
Meanwhile, according to the show's director Wang Ge, the drama is based on real stories from the construction phase of the railway, especially the friendships between the construction workers and the Tibetan people.
One thing that is unique about this dance drama by Wang is that it has 11 lead roles unlike his earlier shows which have fewer lead characters.
Speaking about the change, Wang says: "We visited people who were involved in the construction of the railway and listened to their stories. And then we realized that it was not enough to just have just two or three lead roles because there were so many stories. People even sacrificed their lives for the railway."
The drama's creative team and dancers from the Jilin Municipal Ensemble of Songs and Dances, traveled to Qinghai and Tibet in August, and were inspired to use elements of local Tibetan music and dances for the dance drama.
Speaking about what he hopes to project through the dance drama, Wang says: "We want not only to showcase how hard people worked for the railway, but also to show the hopes, the beliefs, and the dreams of the local people."
If you go
7:30 pm, June 30 to July 3. NCPA, No 2 West Chang'an Avenue, Xicheng district, Beijing. 010-6655-0000