China's livestreaming game platform starts trading on Nasdaq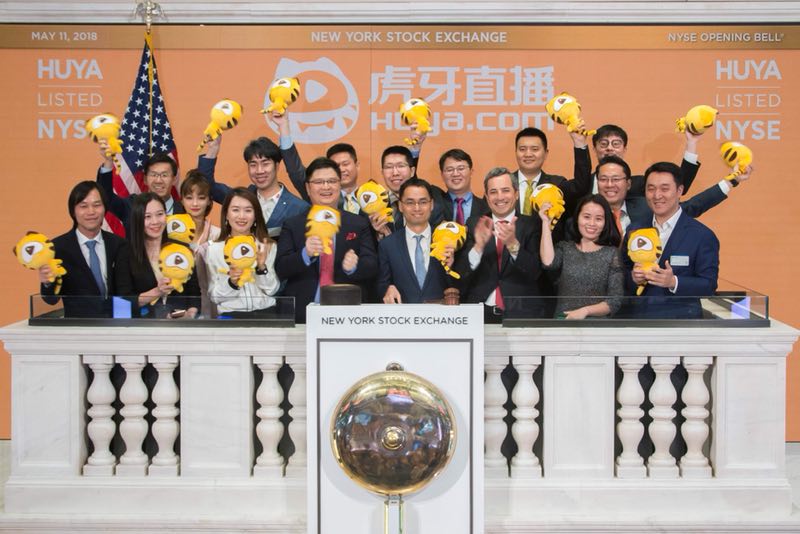 China's livestreaming platform for games, Huya Inc, began its first day of trading on Friday by debuting higher than its offering price, a rosy start for a public company on Wall Street.
The Guangzhou-based company's stock opened at $15.5 on the Nasdaq Stock Market, closing at $16.06.
Trading under the ticker symbol HUYA, the company priced its IPO at $12 per share to raise $180 million. The company said in an earlier statement that it will sell its shares for an IPO pricing of between $10 to $12 per share.
Huya said it plans to use the net proceeds for expanding and enhancing the products and services, investing in their content ecosystem and esports partners, strengthening the technologies as well as working capital needs and potential strategic acquisitions, investment and alliances.
Huya's parent firm YY Inc, a Nasdaq-listed domestic livestreaming platform, will hold 54.9 percent of the voting power following the IPO, while an investment unit of Tencent Holdings Ltd will hold 39.5 percent.
"Game livestreaming will gradually become a key channel for users to choose new games, as people are becoming highly personalized in their specific needs," Dong Rongjie, CEO of Huya, said before the opening bell on Friday.
"We really look forward to having deeper cooperation with Tencent on a wide range of livestreaming topics, including games. We also hope Huya will use Tencent's various overseas game content to quickly expand the market in Southeast Asia," Dong added.
The company reported its revenues surged 111 percent year-on-year, reaching $134.5 million in the first quarter this year. And $126.4 million came from the livestreaming sector, accounting for more than 90 percent of the total. The company said it has made a net profit of $5 million in the first quarter.
The company claimed it had 92.9 million monthly active users and 3.4 million paying users in the first quarter, reporting respective year-on-year increases of 19.2 percent and 34.9 percent.

After years of development, China has already become the largest gaming market in terms of revenues and number of players, said the latest quarterly report by the gaming market intelligence provider Newzoo.
According to the report, China alone will occupy more than a quarter of the total global game revenues, hitting $37.9 billion this year. Mobile gaming is the main driving force and will generate 61 percent of revenues in 2018, a figure expected to grow to 70 percent of the market by 2021.