Venture capital expert says China can be AI leader
Share - WeChat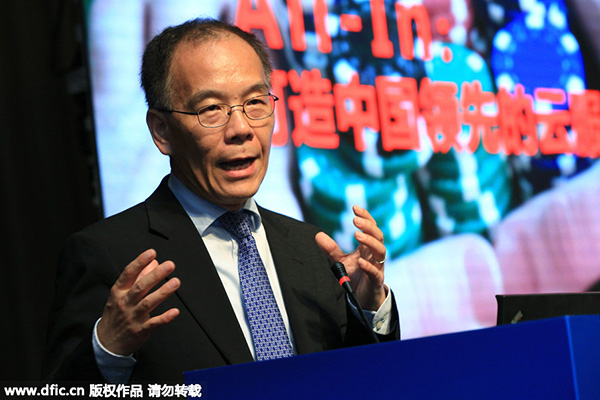 China can keep up with the United States and the United Kingdom in the race to produce the leading artificial intelligence of the future, according to venture capitalist and former Microsoft executive Zhang Hongjiang.
Zhang, a partner at Chinese venture capital fund Source-code Capital, was speaking at the China-UK AI Working Meeting at the Cambridge Science Park, which was co-organized by Tsinghua University.
At the meeting, representatives from Chinese and British tech firms, as well as academics from Cambridge, Oxford, and Tsinghua universities, joined forces to chart a road map for the development of artificial intelligence in several industries.
Zhang said the ability to leverage artificial intelligence technologies will become one of the major defining attributes of competitive advantage across all major industries in the coming years.
"This is how important AI is," Zhang said. "And the two major competition barriers for companies are data and talent. China now has both of these."
He said China has emerged during the past two decades as the largest producer of data in the world, leading to a proliferation of tech companies that exploit artificial intelligence.
In 1995, there were 35 million internet users worldwide - representing 0.6 percent penetration - and only 5 percent of them were in China. In 2014, there were 2.8 billion - representing 39 percent penetration - and 19 percent were in China, which has become the world's largest single market, Zhang said.
"Every second, there are 486 WeChat articles published, and 15,397,092 yuan ($2.42 million) is paid over Alipay," he said. "The data coming out of China is enormous."
He said China has focused on investing in applications ahead of investing in fundamental research, open source tools and chip sets. The United States, on the other hand, has diversified its efforts.
Zhang said China needs to achieve greater balance in its investments if it is to remain competitive.
He also warned that the growth in the size and revenue of the world's largest tech companies, including China's Tencent and Alibaba, as well as Facebook and Google in the United States, could be a barrier to innovation in artificial intelligence.
"Are these companies stopping innovation? Are they stopping other companies competing in the AI age? They have the most data and the most resources. These are important questions," he said.
The AI working meeting was attended by representatives from education, enterprise and government in China and Europe, including people from JD, Tus Holdings, Siemens, the European Commission and several universities and think tanks.
Attendees discussed a number of issues concerning the development of artificial intelligence in closed meetings, information from which will be shared in an upcoming report.