Iron ore futures now open to foreigners
Share - WeChat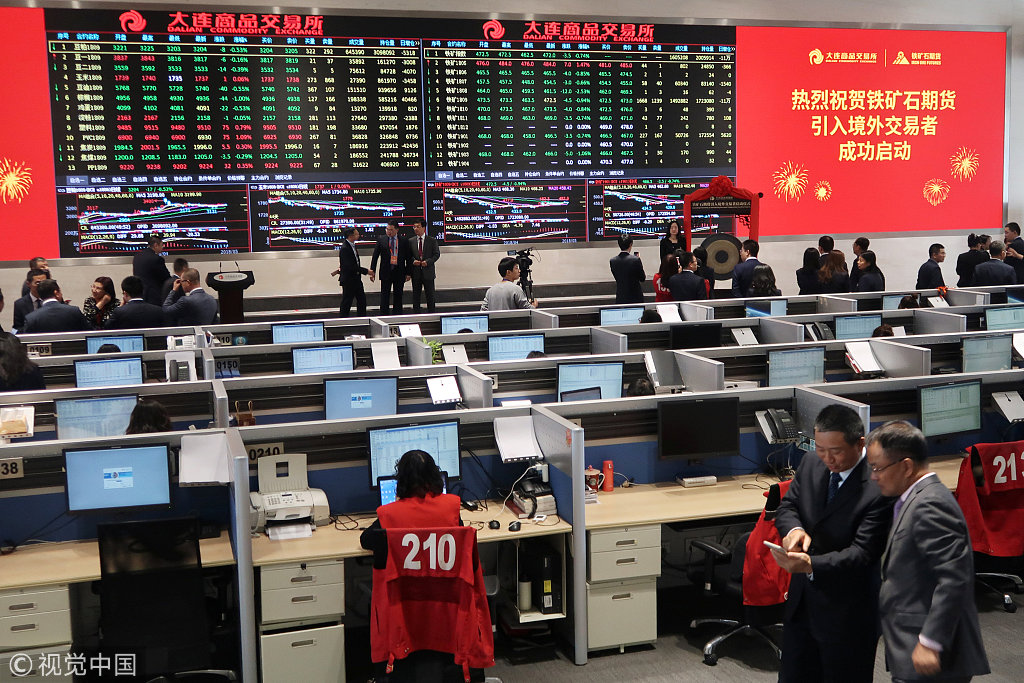 China took another step to further open up its financial and capital market, as foreign investors began trading in domestic iron ore futures at the Dalian Commodity Exchange on Friday.
The move plays a piloting and groundbreaking role in further enriching the variety of China's futures market and also marks the first step in DCE going international, according to Li Zhengqiang, the chairman of the exchange in Dalian, Liaoning province.
The move comes after the launch of crude oil futures in March, the first futures contracts listed on the Chinese mainland open to overseas investors.
The introduction of foreign investors in crude oil and iron ore trading is an important step for further opening up and driving China's commodity futures market. Overseas investors will bring challenges to regulators and exchanges, and this is expected to help improve mechanisms and management, experts said.
By including overseas investors in the trading, futures prices should better reflect the global iron ore market, Li said. Iron ore contracts were launched in 2013 and broadly traded among producers and traders, with the futures prices closely correlated to spot prices. As of Thursday, 21 overseas companies had opened accounts with Jinrui Futures, a domestic brokerage.
"Global companies on the supply chain mitigate price volatility by locking into prices through futures contracts. This could help industrial upgrades," Li said.
China imports more than 1 billion metric tons of iron ore each year. As such a large importer, it has a responsibility to provide transparent iron ore futures prices, Li added.
Fang Xinghai, vice-chairman of the China Securities Regulatory Commission, said introducing foreign investors in iron ore trading is the first globalization move for already listed futures varieties, which can provide valuable experience for other futures varieties.
"China will step up the pace of opening the futures market and promote internationalization of all qualified futures varieties when the conditions are mature," said Fang.
Hu Yuyue, director of the Securities and Futures Research Institute at Beijing Technology and Business University, said, "The year 2018 is the first year of an era for China's futures market globalization."
According to Hu, iron ore is a vital bulk commodity and China's iron ore trading is unique in the world, which can help foreign traders in the pricing and allocation of assets.
Sergio Espeschit, China president of Vale SA, a Brazilian multinational corporation engaged in metals and mining, said introducing foreign investors in iron ore futures trading marks another important milestone for China in its efforts to support the steel industry and in the opening-up initiatives that China is undertaking.
Ma Wensheng, president of Xinhu Futures, a domestic brokerage, said: "The domestic iron ore trade has taken DCE's iron ore futures price as the benchmark price. With years of mature operation of domestic iron ore futures, it is the right time for the introduction of overseas traders."
Currently, the Platts Iron Ore Index is the dominant benchmark assessment of the spot price for the global iron ore market.
Industry insiders believe that participation by domestic and overseas traders in DCE's iron ore futures will have a substantial impact on the spot market and further improve the international iron ore pricing system.
Xinhua contributed to this story.