Government moves to clean up internet content
Share - WeChat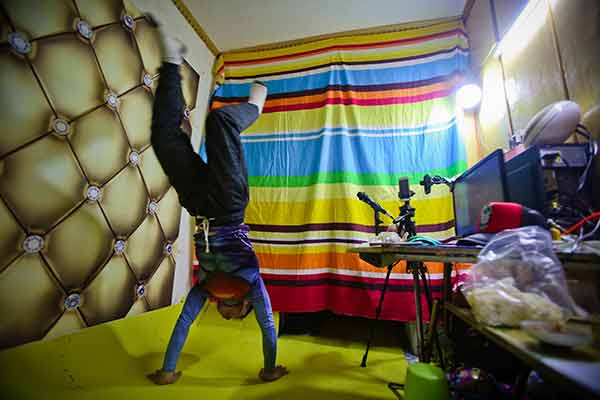 Growing audience
By the end of last year, there were 579 million online video viewers and 422 million livestreaming viewers in the country, according to the China Internet Network Information Center.
Meanwhile, according to a recent report from iiMedia Research Group, a mobile internet consultancy, short videos are becoming increasingly popular, with 242 million viewers by the end of last year, a year-on-year rise of more than 58 percent.
Viewers' reasons for watching the videos vary: more than 70 percent use them to kill time and relax, while approximately 42 percent said they also used them to obtain information, and about 21 percent were looking to make friends, according to the report.
"Cyberspace is not a lawless place because an online exchange is also a social relationship that must abide by the law and regulations," said Sun Jin, head of the Cyberspace Governance Research Institute at Wuhan University.
"We appeal to people to adopt higher ethical standards, but they must adhere to the law. Those disseminating videos of adolescent mothers are suspected of abetting illegal conduct and promoting bad influences on society," he said.
Moreover, users who upload "harmful" videos must assume joint responsibility with the sites that provide platforms that help to spread them, he added.
Yuan Gang, deputy CEO of livestreaming site Douyu, said there are rules governing the registration of minors on the site.
"We use facial identification methods for account registration and users must provide their ID cards. If they are under 18, they are not allowed to open an account. However, they are allowed to do so if they have written permission from their guardian. If the minors want to livestream, their guardian should aware of it," he said.
Self-censorship
In response to the authorities' moves to straighten out irregularities in content, livestreaming and video sites have vowed to remove harmful content and increase manpower in content review.

Zhang Yiming, CEO of Toutiao, posted an apology the same night as one of its apps was ordered to close permanently after airing illegal content. He said he had "spent a sleepless night, feeling guilty and blaming himself" for failing to live up to the trust and support of the site's users.
"We have focused on scale, but have not improved quality of content in a timely manner, and we have neglected our social responsibility to guide users toward positive information," he said.
"We put a lot of energy and resources into growing our enterprise, but we did not take enough measures to regulate the platform, including effective governance of vulgar, violent, harmful content and false advertising."
Zhang said the company overemphasized the role of technology without realizing that it must be guided by the correct values.
Shortly before Zhang's apology, Su Hua, CEO of Kuaishou, expressed regret and apologized for the presence of illegal content-such as pornography and footage of violent acts-on his site.
He conceded that "the algorithm used by the platform contains certain values because humans are responsible for programming them.
"The defect in the algorithm is a defect in our values. We neglected the problem for a long time, but we will not shirk responsibility or evade supervision."
Last month, Toutiao removed about 10,000 video clips and closed about 5,000 accounts, while Kuaishou removed about 310,000 video clips and closed 65,000 accounts.
The sites' CEOs promised to improve editorial responsibility, with Toutiao saying it will increase the number of staff members in its review team from 6,000 to 10,000, while Kuaishou will raise numbers from 2,000 to 5,000.
The sites also promised to amend their algorithms to add "correct values", avoid illegal and obscene content, and focus more on protecting minors.