Livestream broadcaster helps people sleep better
Share - WeChat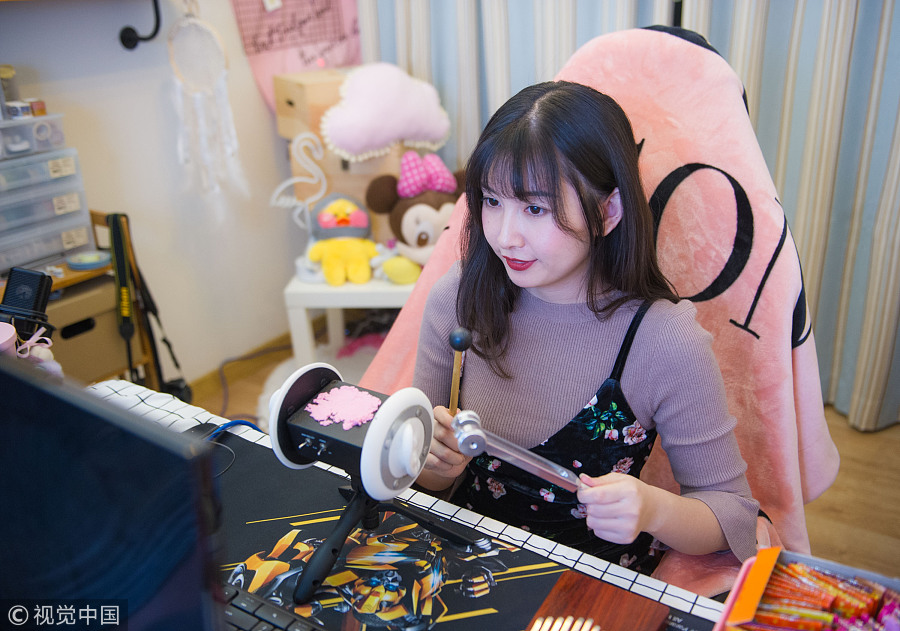 Pressing the U-shaped soft pillow filled with small stuffing to create the sound of the waves, gently rubbing kraft paper to simulate the sound of pulling fries from the fryer, upending the rain stick, a long, hollow tube partially filled with small pebbles or beans that has small pins or thorns arranged helically on its inside surface, to make the sound of falling rain…
These are what Xiu Weiya, an ASMR livestream broadcaster, does everyday in front of microphone and camera, Guangzhou Daily reported.
ASMR, or autonomous sensory meridian response, is described as a pleasurable tingling that begins in the head and scalp, shimmies down the spine and relaxes the entire body, according to a report by the Washington Post.
Xiu, having become a full-time ASMR livestream broadcaster since last May, said what she does can help people overcome insomnia and relieve pressure.
To better pass her whisper and the sounds she make to the audiences who watch her livestreaming broadcast, she even bought an ear-shaped microphone tool.
The ears are like audiences ears, which mean they can make the audiences feel she is talking to them in person when she makes sounds in front of the microphone, Xiu said.
One of Xiu's audiences, who suffers from moderate depression and insomnia, once sent her a message to thank her for helping him sleep well.
Professor Zhang Bin, a psychiatrist and psychologist working at Nanfang Hospital, told Guangzhou Daily it is possible that sounds can help people fall asleep but the effect of different sounds may vary from person to person.
Xiu said she hopes she can provide customized sound services for people in the future.