Marriott, Alibaba to launch new booking portal
Share - WeChat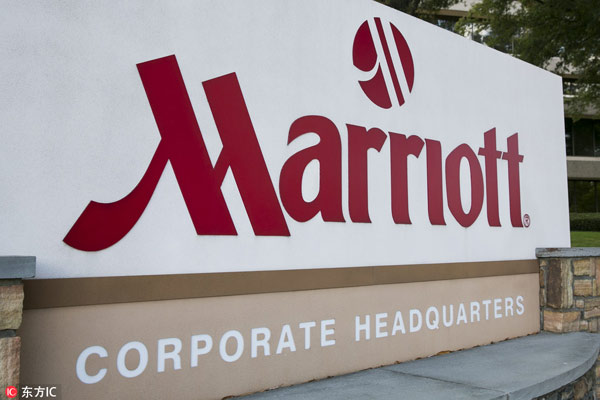 The joint venture formed by China's e-commerce giant Alibaba and the world's largest hotel group Marriott International eight months ago will put an exclusive booking portal online next week, said Marriott in Shanghai on Tuesday.
The website, which acts as a flagship store also accessible through Alibaba's travel platform Fliggy, will allow Chinese tourists to book the group's more than 600 properties in the Asia-Pacific area.
It is expected that all of the group's 6,500 properties in 127 countries will be accessible through the website in the future. This is the first time that Marriott has created a one-stop booking experience, and it is created exclusively for the Chinese market, since it acquired Starwood Hotels and Resorts in September 2016.
"China is the No. 1 source (of tourists) for most of the travel destinations in the Asia-Pacific area. The number of both inbound tourists and those traveling abroad has surged recently, which led to our joint venture with Alibaba," said Craig S. Smith, president of Marriott International's Asia-Pacific region.
"Marriott is one of the top hotel operators, and Alibaba is the same in its field. By combining Ali's intelligence and our 90 years of experience of accommodating travelers, the joint venture will be an exciting journey with a lot more to come," he added.
Marriott's Global President Arne Sorenson said in an interview earlier this month that the partnership with Alibaba has already encouraged "a few million" new members to sign up for its loyalty program, one of the world's largest in the hospitality industry that boasts 110 million members.
But the company is hoping to enroll as many of Alibaba's 500 million users as possible, with more benefits and packages to be rolled out under the JV.
While for Alibaba, the partnership will allow its travel platform to better rival Ctrip, especially in the leisure tourism segment, which saw explosive growth over the past decade, and may do so in the coming years as well.
According to the United Nations World Tourism Organization, Chinese outbound tourism expenditure soared to $261 billion in 2016, up by 12 percent from the previous year and eleven times that of a decade ago.
But only five percent of people in China have passports.
Marriott also said it would allow Alibaba's members to stay at some of its most popular properties, initially 1,000, without any down payment and to pay after checking out.
The announcement was made after Marriott unveiled its new global loyalty program on Monday in the US, which integrated Starwood's SPG program and Marriott's into one.
"The world is changing from people saving to buy the best handbags and watches to purchasing unforgettable luxury experiences," said Smith, vowing to reward loyal guests with more experiences than just "free rooms".