Second chances are the first priority for racing champion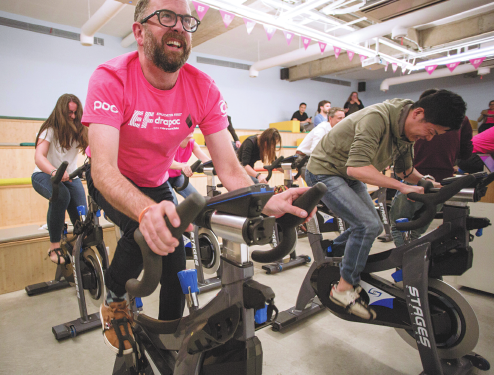 Racing great Jonathan Vaughters is acquainted with both sides of doping, Alywin Chew reports from Shanghai
By age 13, Jonathan Vaughters had already plotted his career path: He wanted to become a professional cyclist.
While most of his pals relished sneaking in a few more minutes of sleep in the mornings, he was up and riding before sunrise, braving the stinging cold to blitz down open highways and byways in his native Colorado.
When he wasn't on his bike, Vaughters was watching video tapes of the Tour de France, scrutinizing how the athletes rode, yearning to be a part of the peloton. He worshipped Alexi Grewal, the 1984 Olympic gold medalist in road cycling, and Greg LeMond, the first American to win the Tour.
Driven by such immense passion for the sport, Vaughters went on to fulfill his childhood ambition when he was just 20, racing for Spanish outfit Santa Clara. He soon established himself as a specialist climber and represented several teams, including the same US Postal Service squad as Lance Armstrong.
His gift for cycling was not hereditary. Vaughters said his parents always leaned more toward academics than sports. His father was an attorney, his mother a speech pathologist. His passion for racing was born out of an act of mischief.
"There was this kid who lived down the street from me and his dad had all these racing bikes in his garage that he wouldn't allow us to even touch," Vaughters recalled during a recent visit to Shanghai.
"One week when the guy was out of town, we just broke the bikes out of the garage and started riding them.
"I couldn't believe how fast I could go around the corners! Cycling allowed me to travel, to see so many different places. I could go anywhere I wanted. It gave me a sense of freedom.
"I also love being outdoors. I love putting my body under extreme conditions and seeing how far I can push myself. I like that feeling of being right up against my limits."
The 44-year-old Vaughters was in Shanghai earlier this month to check out the Asia Pacific headquarters of EF Education First, a multinational firm and latest title sponsor of the EF Education First-Drapac p/b Cannondale pro cycling team he manages.
Following an illustrious career that included more than a dozen victories, Vaughters quit pro racing in 2003 and founded the management company Slipstream Sports two years later.
The company quickly earned a cult following, thanks to its reputation for being a low-budget outfit that occasionally upset the competition.
While Slipstream Sports has never won the Tour de France, it does have several impressive achievements under its belt, including a victory at the 2012 Giro d'Italia, stage wins at every Grand Tour, and triumphs at three international showcases-Paris-Roubaix, Liège-Bastogne-Liège and Il Lombardia-widely regarded as cycling's toughest one-day road races.
Slipstream is also famous for being a fervent anti-doping advocate.