Gift-wrapped: Man City crowned as United crashes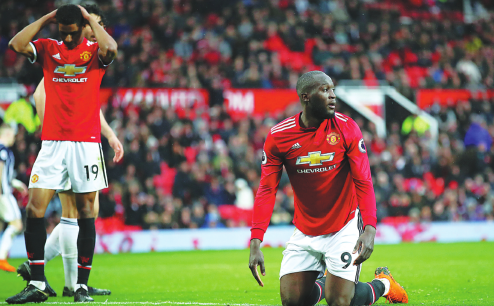 But Guardiola's first English title not enough to interrupt golf game
LONDON-Manchester City was crowned Premier League champion on Sunday after Manchester United crashed to a 1-0 defeat against West Bromwich Albion as coach Pep Guardiola added a first English title to his three apiece at Barcelona and Bayern Munich.
City, which had moved within striking distance of the title with a 3-1 win at Tottenham on Saturday, clinched the silverware 24 hours later thanks to West Brom forward Jay Rodriguez's 73rd-minute header at Old Trafford.
Guardiola missed the crucial moment after opting for a round of golf with his son instead.
City captain Vincent Kompany led the celebrations, tweeting: "Champions! What a great feeling! So happy to be able to share another trophy with our amazing fans!"
United had denied City the chance to wrap up the title the previous weekend when it came from two goals down to beat its local rival 3-2 in a dramatic derby at Etihad Stadium.
But Jose Mourinho's men still ended up handing the trophy to City with a lackluster display against cellar-dwelling Albion, which has won only three times in the league this season.
"Manchester City, we won it for you," chanted West Brom fans at full-time as United supporters began jeering in frustration at their side giftwrapping the title to City.
Guardiola is the first Spaniard to win the English title. He and Mourinho are old rivals from their time in Spain when the United boss managed Real Madrid.
Mourinho was hardly effusive in his praise when asked about City's success, but did concede it deserved to be champion.
"I have won titles. City was the best team; sooner or later they would get the points, so no dramas when the best team wins the league," Mourinho said.
"I saw lots of people over the moon because we won against City. You could see the difference in the attitude of players compared to last week.
"We deserve to be punished."
City is 16 points clear of second-place United, which can only take a maximum of 15 points from its remaining games.
Winning the title with five matches to go ties City for the earliest championship in the Premier League era with the 2000-01 United squad.
"We did it! An amazing journey to get here. All the lads have done so well and it feels great to be part of this really special group of players," City defender Kyle Walker said.
Sergio Aguero, who became City's record leading scorer this season, added: "Ecstatic about clinching another title with this great team, and with all the support of our fans. Let's celebrate!"
City midfielder Kevin De Bruyne, a candidate for PFA Player of the Year, said: "Unbelievable season for us. Very happy to call us champions this year!"
This marks the fifth time City has been crowned English champion and the third time in the past seven seasons.
City defender Benjamin Mendy, who missed most of the campaign due to injury, turned social media blue as he tweeted: "We are f*****g champions! Congratulations boys!"
Pep on the links
Guardiola had planned a day of golf with his son Marius on Sunday, so the Spaniard might have learned of his first Premier League while on the course.
Speaking after the win over Spurs, Guardiola said winning the title in England would be one of the greatest achievements of his career.
He won three league titles with Barcelona and twice lifted the Champions League trophy during his Camp Nou reign.
The 47-year-old also took the German title three times with Bayern, but he believes the unique strength in depth and physical demands of England's top flight makes this triumph among his very best.
He also conceded it was sweet to triumph in a country where some critics claimed his purist principles couldn't flourish.
City was looking forward to the chance to celebrate properly on Sunday when it hosts relegation-battling Swansea.
It was always a matter of when rather than if City would be champion after it led the way for most of the season.
Only in the past 10 days, as it lost to United and was knocked out of the Champions League quarterfinals by Liverpool, had City's quality been called into question.
It gave a superb response with a swaggering win at Tottenham.
Now, driven on by stars De Bruyne, Raheem Sterling and David Silva, Guardiola's men can focus on establishing themselves among the Premier League's all-time great teams.
Some pundits are already ranking City-which at one stage this season won a record 18 straight league games-alongside Manchester United's 1999 treble winners and the Arsenal 'Invincibles', who went undefeated in 2003-04.
While it may be premature to place City in that rarified air, it could make a case by breaking the Premier League points record of 95 set by Chelsea in 2004-05.
That might just get Guardiola off the golf course.
AFP
Most Popular
Highlights
What's Hot