Unilever, Alibaba's Tmall join forces to set up R&D center for health products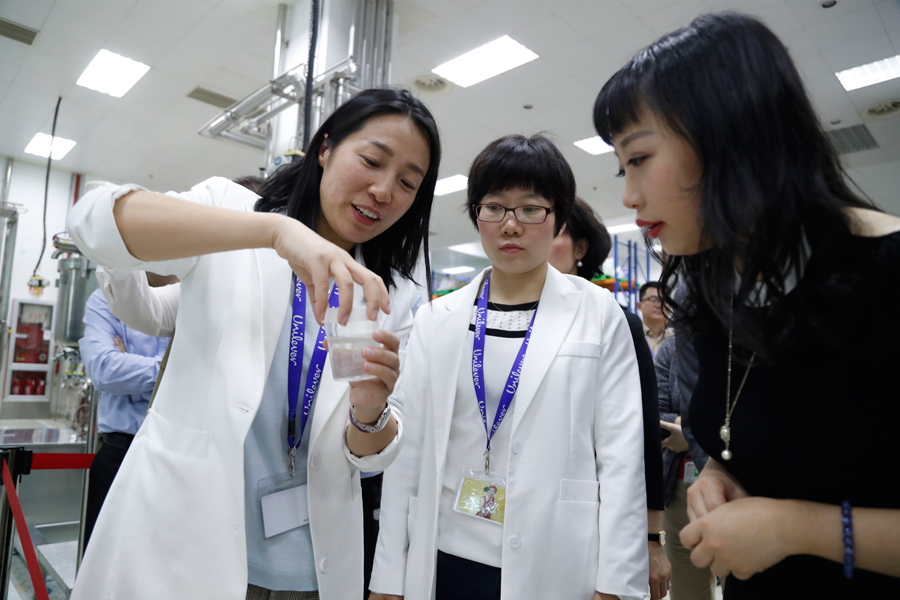 Rotterdam-based consumer goods company Unilever Plc and Tmall, Alibaba's online marketplace for reputable retailers, have built a new research and development center to promote health-related products.
The center will seek to explore new opportunities in China's healthcare market.
In early April, the two sides co-launched Tmall Innovation Center and Unilever Joint Innovation Lab at the R&D center of Unilever in Shanghai, one of the six biggest global R&D centers of the company.
The center will focus on the R&D of health products, such as personal care products, and water and air purification products, leveraging the advantages of supply chain management abilities of Unilever, and the big data and new retail resources of Alibaba.
Unilever said it would help more than 1 billion people worldwide to improve their health conditions. Toward that end, the company acquired some companies that produce healthcare products, such as air purifier manufacturer Blueair and water purifier maker Qinyuan.
In 2016, the Chinese government proposed the "Healthy China 2030" initiative, the country's first national-level medium- to long-term strategic plan for national health and wellbeing.
Currently, the health sector in China contributes about 6 percent to the GDP, which is lower than the average 10 percent of developed countries.
The initiative forecasts that by 2020, the total scale of healthcare-related sectors in China will exceed 8 trillion yuan ($1.27 trillion).
By 2030, that will likely reach an estimated 16 trillion yuan. The market has become the new favorite for many investors and companies.
Unilever said the new R&D center will enable its personal care brands, as well as Blueair and Qinyuan, to further cooperate with Alibaba.
For instance, the center has introduced a new skincare product, which was developed based on consumer demand analysis. The period from R&D to the launch of a product has also been shortened to six months from two years.
"We applied a flexible supply chain management model. The core of the mechanism is that the capacity will be smaller and more flexible, and we can quickly respond to any problems," said Zhao Wenfeng, director of personal cleansing products at Unilever North Asia.
Meanwhile, more than 500 outlets of Qinyuan across 100 cities in the country will cooperate with Tmall online and offline, and consumers will be able to experience the products at the brick-and-mortar stores, and then scan the QR or quick-response codes at the stores to shop online.
In the next few years, Unilever and Tmall will expand their cooperation to more sectors and grab more business opportunities together. Both sides aim to integrate more R&D and innovation resources and make more comprehensive and precise forecasts of the future consumer trends.
"Brands should build good online platforms, and the related data and member services should also be integrated online and offline. Besides, brands should outline clear pictures of their targeted consumers and launch products that are more precisely tailored," said Neil Wang, president of consulting firm Frost & Sullivan in China.