Rocky road to success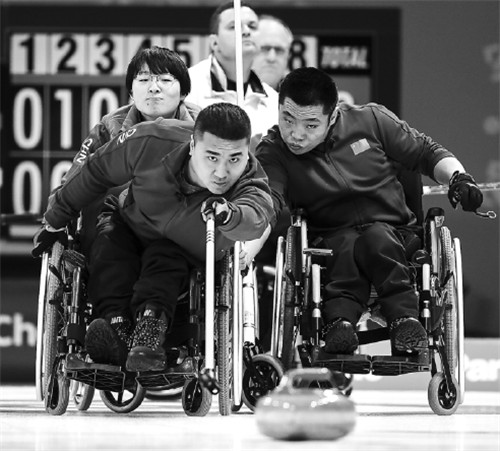 After clinching gold in the 2018 Winter Paralympics, China's curling team share the story of their hard-fought path to victory.

The Gangneung Curling Centre was packed out for the final game of wheelchair curling at the 2018 Pyeongchang Paralympic Winter Games on the afternoon of March 17.
Lights off. Music on. Then the ice was illuminated with the images of the national flags of Norway and China, the finalists in the event, with both teams hoping to clinch their first-ever Paralympic wheelchair curling title.
And for China, it would be its first Winter Paralympics medal of any color, even though China has ended top of the medals table for four consecutive Summer Paralympics, winning a staggering 239 medals including 107 gold, 81 silver and 51 bronze at Rio de Janeiro in 2016.
China's lead curler Wang Meng, second Liu Wei, third Chen Jianxin, and skipper Wang Haitao were introduced to the spectators in turn. They looked relaxed on camera.
Half an hour earlier outside the stadium, the team members were spinning their wheelchairs to popular tunes as a warm-up with alternative Zhang Qiang. When the music stopped, Wang Meng sang aloud instead.
Despite their smiles, they were nervous by the time they took to the ice. By the close of the first end, Wang Haitao's last draw was light, and didn't make to the house, or target. His last rocks in the second and third end also failed.
Of all the 13 matches of this Paralympic Games, Wang played his best performances during the first 12 matches.