A moment to cherish for coach
Share - WeChat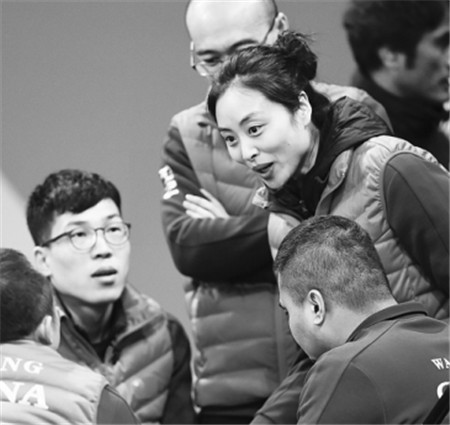 The wheelchair curling final at the Pyeongchang Paralympic Winter Games was live on China Central Television, when one familiar face often came up on the screen.
Yue Qingshuang, the women's curling world champion, was on the bench as the head coach of Team China at the Gangneung Curling Centre in Gangneung, South Korea.
The stadium is where Yue achieved her first world champion title 9 years ago as an athlete, and now it was witness to her first wheelchair curling gold medal as a coach.
Yue, 32, stepped in as head coach of China's wheelchair curling team in November, training 19 athletes for the 2018 Paralympics.
"I wanted to share all my experience and knowledge of curling (a sport in which players slide rocks on a sheet of ice toward a target area that is segmented into four concentric circles) with the athletes," says Yue, who took the team to train and compete in Canada before Spring Festival, and didn't take any holiday for five months.
Yue even postponed plans of having a baby after taking up the coaching job.
"I discussed this with my husband, and he understood and supported me."
Li Jianrui, Yue's colleague, who has been coaching the team since 2007, says Yue gives her all to the athletes.
Yue made two major changes to the team-one was to hire a psychological consultant and the other was to enhance the athletes' overall strength.
Spiritual maturity is what Yue thinks a curler needs.
"When you make a mistake, or when you have a huge lead, how do you adjust? I thought we needed a psychological consultant to help."
China's skipper Wang Haitao used to have difficulty in adjusting himself when the team was behind, and now has learned abdominal respiration to calm himself during competition.
"Yue is my idol, and she is always telling us stories about how she dealt with different situations," says Wang.
Yue also has a physical trainer to help the team improve their upper body strength as wheelchair curling is all about control.
At the Paralympic Games, when China asked for a timeout, Yue was always telling her athletes to focus mentally.
"If you make one mistake, you need to let it go and focus on the line and strength of your next shot," says Yue. "I also told them not to think it's the Paralympics, but take it as two and a half hours of training."
"No matter who is your competitor, you just stare at them as if you are a pack of wolves."
China won the final 6-5 against Norway, clinching its first gold medal.
Yue gave two national flags to the athletes, and had tears in her eyes when celebrating.
It was the third time she was spotted shedding tears.
The first time was when she was asked by journalists why she took the job of coaching the wheelchair curling team.
She says she felt sympathy when she first met the athletes, but now she feels like she is one of them.
"I think it's a team, no matter what the circumstances," says Yue.
The second time was when China beat the United States in the seventh game in the round-robin session. The team had lost to Canada in the earlier match, the first loss for China after five consecutive wins.
Yue was teaching curling at Harbin Sports University. And with the Paralympics done Yue is going back to her classroom.
Speaking about the sport, Yue says: "I think the charm of curling is when you push the rock out. My love for curling makes me want to go on."
Most Popular