Culture gives new meaning to life in city
Share - WeChat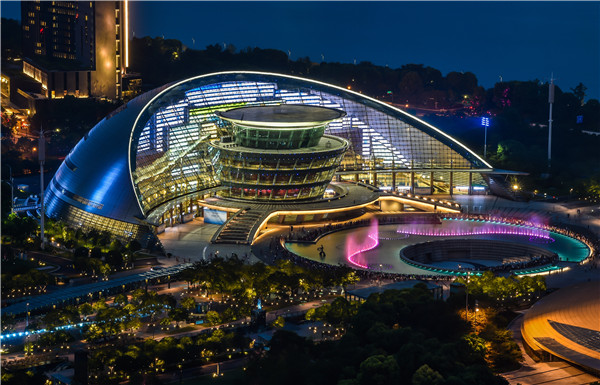 Culture is helping Hangzhou, the provincial capital of East China's Zhejiang province, improve its residents' lives.
In 2014, Hangzhou's public library system joined a model scheme to reach out to people. For almost a decade, Hangzhou Library has been allowing ragpickers and wanderers to stop by with their belongings, read in the air-conditioned rooms, charge their mobile phones and get drinking water.
Hangzhou Grand Theater, another example of using culture to improve quality of life, has had thousands of shows from around the globe going on stage, including the Broadway classic The Sound of Music and Yo-Yo Ma's Silk Road Project.
And among the around 200 performances the theater hosts annually, half are public service performances that are dedicated to cultivating arts appreciation among ordinary people.
Now, with a series of modern facilities, the residents of Hangzhou have libraries, museums, youth or senior citizen centers within walking distance from home.
Next to the Gongchen Bridge on the Grand Canal, a UNESCO World Heritage Site, is the Qiaoxi block, where the largest number of museums in Hangzhou is located.
The block has museums for craft arts such as umbrellas, fans, knives, scissors and swords.
The museums were built on the sites of old factories to meet the need for space, says Yan Jianqiang, the director of the cultural heritage and museology department of Zhejiang University.
This is just one of the many examples of striking a balance between preserving the old town and building the new city. Also, by developing the block, the waterscape, local opera sites, traditional markets and temple fairs are being preserved.
Such protection measures have also helped the restoration of more than 100 natural and cultural features around the West Lake.
Most Popular