Promising prospects for financial services
Share - WeChat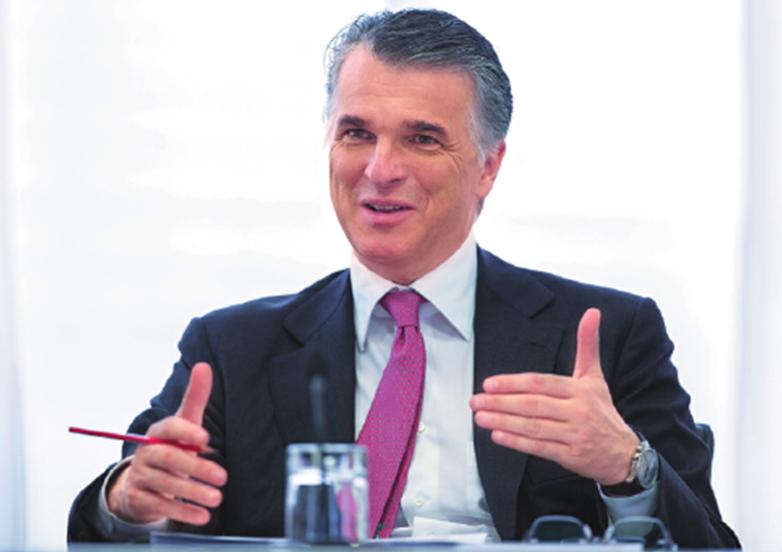 Editor's Note: This year marks the 40th anniversary of China's reform and opening-up. China Daily interviewed top executives of well-known multinational companies for their views on the country's socioeconomic development.
UBS aims to help Chinese investors and lenders diversify their asset allocation portfolio, says group CEO
Please use three words to describe China's changes in the past 40 years.
Remarkable, visionary and a great comeback.
What are the biggest achievements in China since the introduction of the reform and opening-up policy 40 years ago?
From my point of view, it is clearly the fact that hundreds of millions of people have come out of poverty in the past 40 years, and the fact that China has managed to build a modern and well-established infrastructure.
Meanwhile, it is not only about the growth itself. It is also about the quality of the growth. So it is quite impressive when you see the wealth creation in the country and the strong prospects for future growth.
How do you anticipate the next round of reforms and opening up in China and how will UBS benefit from that?
We have had a presence in the Chinese mainland since 1989 and we are in discussions about our ability to increase our stake in UBS Securities to 51 percent, which is a very important step going forward.
We are already very active in China with our asset management business. The fact that we are one of the first foreign banks to get the license to distribute certain kinds of funds is very helpful for us. China's opening is very promising because our aim is to help Chinese investors and financial institutions to diversify their asset allocation and in the next five to 10 years I am sure China will offer great growth prospects for UBS and the overall financial services industry.
How do you see the internationalization of the Chinese capital market and what roles can foreign banks play in the process?
The internationalization of the Chinese equity markets, including the inclusion of Chinese stocks into the MSCI indexes, is clearly something that fits into our strategy. We are helping international investors invest in China and our aim is also to help Chinese investors to invest internationally. UBS is a global bank and benefits from open markets and the dynamics of globalization. Our clients look at finding pools of liquidity and assets that are investable, so the opening of the Chinese market is a welcome move that should also be positive for China.
How do you comment on China's ongoing effort of preventing financial risks to foster a healthy development of the financial service industry?
I think a big risk is that the economy is growing with a lot of leverage in the system. The situation is not so preoccupying for the moment. Probably the most delicate issue to tackle is the shadow banking phenomenon in China, which is something that needs to be fully understood. I am sure the government is already looking at ways to contain and manage this risk. Over time, I do think that the ability of the economy to fund true development of efficient equity and debt markets should help address the phenomenon of shadow banking activities.
How do you see the rise of local Chinese banks and their desire to push international expansion along the Belt and Road Initiative?
We are active through our asset management business to help investors invest in infrastructure projects. We welcome the development of the big projects and the ability for Chinese and overseas investors to participate.
Beyond infrastructure for the time being, in terms of global wealth management and investment banking capabilities, I don't see a major development coming from Chinese banks yet. It takes time to build this expertise and we are prepared to continue helping them via partnerships and cooperation.
What is the most unforgettable experience you have had in China?
The one I remember is walking through Tian'anmen Square for the first time. It is quite an impressive experience because I have seen it on TV many times. You don't realize how big it is and you feel a mix of the history and the future at the same time.
Another experience was last September when we were in Shenzhen. It is not because I saw something different. Being there and thinking 30 years ago it was only a small fishing village was difficult to comprehend. You can't help but imagine how it became what it is today.
CV
Name: Sergio Ermotti

Age: 57

Nationality: Switzerland

Education: Graduate of the Advanced Management Program at Oxford University

Career:
2014 onwards: CEO of UBS Group AG
2011-2016 Group CEO of UBS AG
2007-2010 Group Deputy Chief Executive Officer and Head of Corporate & Investment Banking and Private Banking at Uni-Credit Group
2005-2007 Head of Markets & Investment Banking at Uni-Credit Group
2001-2003: Co-head of Global Equity Markets at Merrill Lynch