Meituan acquires Mobike for $2.7b
Share - WeChat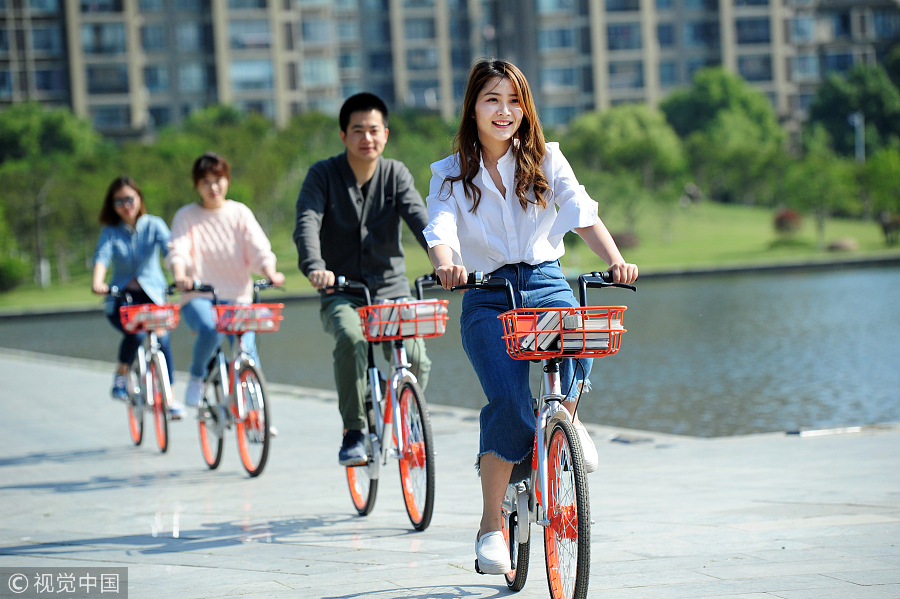 China's online-to-offline catering company Meituan-Dianping acquired bike-sharing firm Mobike, Meituan CEO Wang Xing said in an internal letter Wednesday, according to a report by tech.sina.com.cn.
"Mobike will continue to operate independently as an independent brand. The management team will remain unchanged, with Wang Xiaofeng, Hu Weiwei and Xia Yiping continuing to serve as the company's CEO, president and CTO respectively," Wang, who will be chairman of Mobike, said in the letter.
The acquisition was approved by a vote at Mobike's shareholder meeting held Tuesday night, according to a report by tech.ifeng.com.
A source close to the deal said the price of the acquisition is $2.7 billion, 65 percent of which will be paid in cash while 35 percent of which will be paid by Meituan's stake, the report said. In addition, $320 million of the $2.7 billion will be used as a future liquidity supplement for Mobike.
Hu Weiwei, founder and president of Mobike, tweeted on social media platform WeChat's moments after the shareholder meeting, saying "everyone prefers drama, but I would rather view everything positively. Thank you all for applauding us to the height of changing the world and thank you for reexamining Mobike."
Hu said: "Many people regard Mobike's bike as a transportation tool, but I have always said it is 'a good way of life', which is back to simplicity, nature, health and green, and no excessive pursuit of material. Live better is also the vision of Meituan. We have great imagination on this point."
"Mobike is a rare genuine Chinese original tech brand with a sense of design. It has promoted the popularity of green travel and low-carbon life, and has great social value. Today, Mobike has expanded globally and is becoming a new brand popular among consumers all over the world, and a new business card for China's innovation," Wang said in the internal letter.
A Mobike investor who asked not to be identified told tech.ifeng.com the price is a sacrifice sell for Mobike.
"It is mainly because strategic investors would not accept another offer with a higher price," the investor said.
According to a report by Lanjinger, the valuation of Mobike after its previous round of fundraising was $3.45 billion.
The company's financial statement shows its monthly operating expenses were over 400 million yuan, but last December the firm's revenue was only 110 million.
Now, the firm has 9 million bikes but its daily orders number fewer than 10 million. To honor its orders and avoid a slide, Mobike needs $800 million to $1 billion a year, according to the report.
In this deal, Tencent CEO Pony Ma Huateng served as a bridge between Meituan and Mobike, Caixin reported.
On Monday, Alibaba Group Holding Ltd announced it will take full control of food delivery platform Ele.me, the rival of Meituan, for $9.5 billion, through its affiliate Ant Financial Services Group.
To better face off against Alibaba-backed Ele.me, Meituan's takeover of Mobike is a way for Tencent to back Meituan by finding it a good helper, tech.ifeng.com reported.