Vandalism a bump in road for bike-sharing
Share - WeChat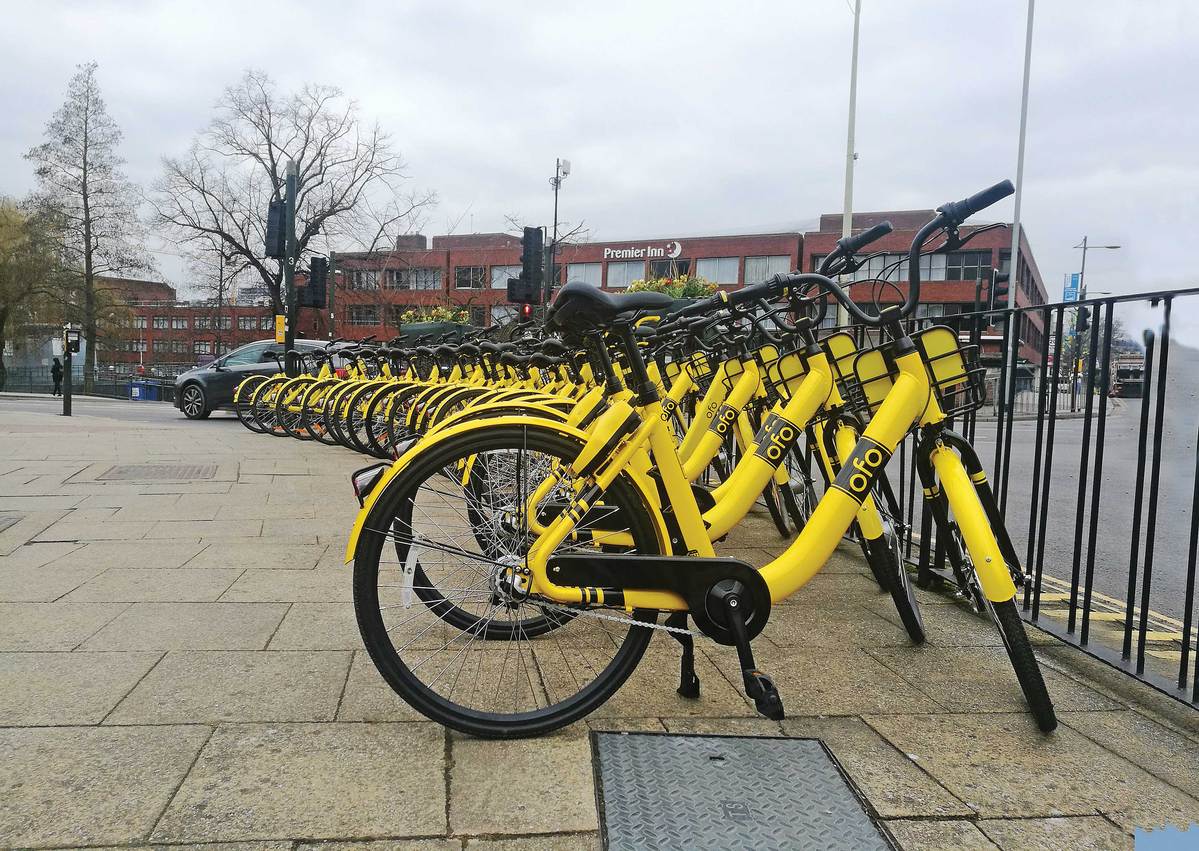 Chinese companies say they will go the distance on Britain's city streets
Editor's Note:
Ofo and Mobike remain on course for UK expansion while smaller bike share operators hit by thieves and vandals call for industry regulation.
When the first Chinese dockless bike share scheme was launched by Mobike in the Northern English town of Stockport in March, local residents took to social media to voice their approval.
"Really great to see Mobike launching in Stockport," a Twitter user wrote. "Hopefully it will take off."
Days later, however, a second wave of commenters rose up, this time to lament the suspension of the scheme due to widespread reports of vandalism - "So sad that a few spoil this for the majority" one user said.
Beijing-based Mobike rolled out 200 of its silver and orange bikes on March 12 in Stockport, 8 kilometers southeast of Manchester, promising 800 more in the coming weeks. On March 24, though, Mobike suspended service in order to "protect our bikes and our team".
The company, which has since resumed service in the town, has not disclosed how many bikes were stolen or damaged, though there are anecdotal reports that more than a third of the fleet was vandalized in the first 10 days of operation.
It's been a year since Ofo - Mobike's biggest rival - brought the first dockless bike share scheme to the UK from China, and the industry has developed rapidly, with several new operators rolling out in cities across Europe.
But the issue of vandalism is not confined to Stockport, and for some smaller firms it can be crippling.
In January, Hong Kong bike share company GoBee pulled out of the Belgian city of Brussels and Lille and Reims in France because 80 to 90 percent of its fleet in those cities had been damaged or stolen.
GoBee is continuing to supply a service in Paris, and the Italian cities of Florence, Turin and Rome, where only 1 to 6 percent of the fleet has suffered vandalism.
"We must face up the sad reality that a minority bent on destruction does not share our vision on mobility, and we can no longer support the financial and moral costs of the repairs," GoBee said in a statement.
But the world's largest bike share operators Ofo and Mobike dismiss vandalism as a manageable growing pain.
"As with many new launches there can be teething problems, but we are working closely with the council, the police, and local stakeholders to address any issues and make the scheme a success in Stockport," said Darryl Evans, Mobike General Manager.
When Mobike launched in Manchester last summer, the scheme lost 8 percent of its fleet to theft and damage. The company's UK manager Steve Pyer says once the novelty of the scheme has worn off, vandalism decreases sharply.
"About 80 bikes have been damaged in Manchester. Everywhere else is minimal, a couple of bikes here and there," Pyer says. "We haven't had a repeat of Manchester in Oxford or London. We've got about 1,200 bikes in Manchester and the level of vandalism has dropped off a cliff."
Joseph Seal-Driver, UK manager for Ofo, says that cases of vandalism are well publicized, but have had minimal impact on the company's operations in Britain.
"You get the first issue of a small but noticeable amount of vandalism - a bike in a river or something like that - and the press picks up on it," he said. "And then eventually, the bikes become part of everyday life, people start using them every day. Vandalism just peters out."
Dublin-based dockless operator Urbo, which operates in London and Ipswich, said that maintaining a dedicated on-the-ground team is key to controlling the threat of vandalism.
"Our level has been low - only about 5 percent of our fleet have been vandalized or stolen. Credit goes to our operations team," said Urbo co-founder Tom McGovern.
"It's a bit like the broken window effect - if one window in a house is broken, more will be broken soon. If you leave a vandalized bike laying around for a long period, you're increasing the chances of more of your fleet getting stolen."
Like Urbo, both Ofo and Mobike have teams that move bikes to high-use areas, perform general repairs, and respond to cases of vandalism.
The European Cyclists Federation estimates that that these teams account for 30 percent of an operator's costs.
"The question many people ask is how does each city treat shared assets, what kind of a society is it? Can people share things? I'm not sure if that is a good question," Seal-Driver said. "It's actually often about the execution of the service - how it's managed, how robust the bikes are. And that's why we've done a good job in the UK."