Documentary continues to shine at the box office
Share - WeChat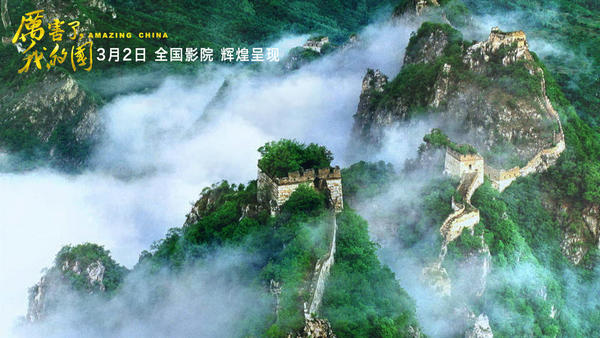 The recently released documentary feature Amazing China has earned more than 400 million yuan ($63.9 million) as of March 26.
The 90-minute film, jointly produced by China Central Television and China Film Co Ltd, records the country's social and economic achievements over the past five years.
The movie will be translated into 35 dialects and 17 ethnic languages, a first for Chinese cinema, according to China Film Co, also one of the distributors.
The movie has so far attracted more than 13 million moviegoers and obtained 9.6 points out of 10 on Maoyan, an online researcher and ratings tracker.
Besides, internet posts discussing the documentary on the Twitter-like Sina Weibo, a barometer of popularity, have been read over 950 million times, generating more than 4.15 million reviews.
The movie has also attracted appreciation from expats in China.
Daniel Martin, a Frenchman who recently watched the movie in Beijing, says he was impressed by the sequences of the country's fight against desertification in northern China.
He says the movie is good in the sense that it presents every aspect of China's progress, including infrastructure, environmental protection and the country's efforts to develop the countryside.
"It gives a comprehensive view of the rapid improvement of Chinese lives," says Martin, who works for a Beijing-based nongovernmental environmental-protection organization.
Amazing China opened on March 2, and overtook Twenty Two-a 2017 documentary about women forced into sexual slavery by the Japanese during World War II-to top the all-time box-office charts of documentary films in China in just nine days.
The box-office total for the first quarter had soared to 19.7 billion yuan ($3.13 billion) by Tuesday, up nearly 37 percent year-on-year, according to Maoyan. The momentum exemplifies the fast expansion of China's movie market, which has recently produced more quality mainstream films.
Most Popular