Retail banking boosts China CITIC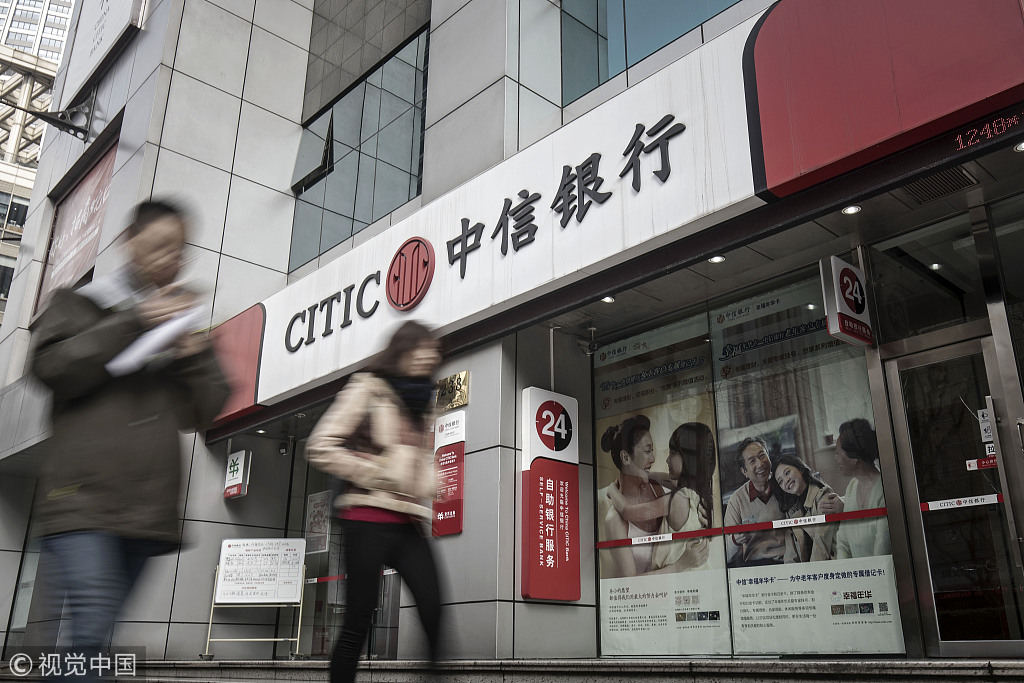 The net non-interest income realized by China CITIC Bank Corp Ltd's retail banking in 2017 increased by a significant 40 percent year-on-year, as the bank stepped up its efforts for business restructuring.
Its retail banking clients totaled 80 million last year, increasing at a compound annual growth rate of 17.1 percent from 2014. Retail banking contributed about 34.17 billion yuan ($5.46 billion) to the net non-interest income of China CITIC Bank, the Beijing-based national joint-stock commercial lender announced on Tuesday.
On the contrary, the volume of its interbank business shrank more than 690 billion yuan last year, leading to a 10 billion yuan reduction in operating income from 2016 in this business segment.
As banking regulators tightened rules on shadow banking and interbank business and launched a new round of inspections on irregular banking activities, China CITIC Bank re-examined its interbank business to ensure it is in compliance with regulatory requirements, in addition to shrinking part of the interbank business that generated low or no profits, said Fang Heying, vice-president of the bank, at a news conference on Tuesday.
Beginning this year, the bank is implementing a new three-year development plan. Previously, it highlighted corporate banking as the main body and retail banking and financial markets business as the two wings. But in the next three years, the bank will gradually shift its business positioning from "One Body, Two Wings" to "Troika", which means striving for balanced development of corporate banking, retail banking and financial market business, said Chairperson Li Qingping.
"To replenish capital for its development in the next two years, the bank is planning to issue 40 billion yuan of convertible bonds in the second quarter and 50 billion yuan of tier 2 capital bonds in the fourth quarter," Fang said.
The bank will also continue to accelerate innovation on financial products, marketing and risk management through technology.
On the night before the news conference, it announced that aiBank, a direct banking joint venture launched by China CITIC Bank and the country's leading internet search company Baidu, will double its registered capital to 4 billion yuan by issuing 2 billion new shares. The shareholding of China CITIC Bank and Baidu in aiBank will remain unchanged at 70 percent and 30 percent, respectively.
The bank is not alone in exploring tools for capital replenishment. Earlier this month, Agricultural Bank of China Ltd announced a plan to raise up to 100 billion yuan by issuing 27.47 billion A shares to a target group.
"It will improve the capital adequacy ratio by 0.8 percent and will help the bank meet the standard of total loss-absorbing capacity for global systemically important banks," said Zhao Huan, president of Agricultural Bank of China.
The ABC stepped up nonperforming loan disposal and eliminated 160 billion yuan of NPLs last year, which contributed to significant improvement of its asset quality. The bank's NPL ratio dropped 0.56 percentage point year-on-year to 1.81 percent as of the end of 2017, and its NPL balance fell by 36.8 billion yuan to 194 billion yuan.