Trade war would greatly harm Chinese, US aviation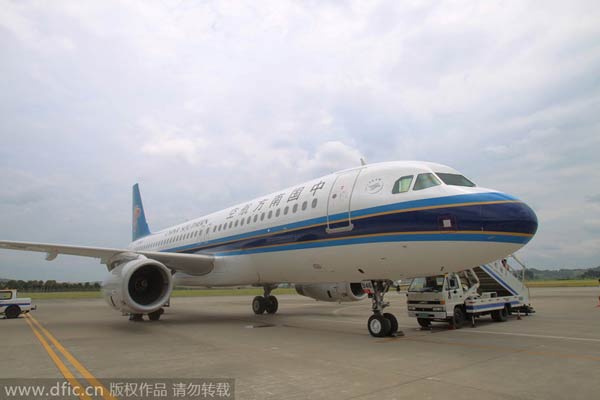 A potential trade war between China and the United States would be harmful to the development of companies from the two countries, Wang Changshun, chairman of China Southern Airlines, said at the airline's annual results press conference Tuesday.
"As an air transport company, we are paying high attention to the trade war issue. We strongly oppose the unilateral trade protectionism by the US," he said.
As aviation is one of the most important trade sectors between China and the US, the US aircraft giant Boeing has become the largest supplier for China civil aviation.
According to Wang, Boeing's sales in China reached $12 million in 2017, accounting for 15 percent of its total revenue. The market in China has become one of its fastest-growing markets.
Wang said China Southern Airlines' fleet includes about 750 aircrafts, of which 407 were bought from Boeing. There are another 187 Boeing aircrafts planned to be delivered before 2020.
The carrier reported a net profit attributable to equity shareholders of 5.96 billion yuan ($950 million) last year, 18.2 percent up from 5.04 billion yuan one year before due to growing passenger numbers.
In 2017, with a background of global economic recovery, China civil aviation's international and domestic market witnessed rapid growth, the company said in a statement.
Passenger revenue was up 10.04 percent to 112.79 billion yuan, the highest level in past five years. The total number of passengers carried for the year increased by 10.19 percent to 126.3 million. Passenger load factor, which measures capacity utilization, grew to 82.2 percent in 2017, reaching a historical high.
Wang reckoned the domestic aviation industry will maintain a relatively rapid development pace over a certain period. According to the Civil Aviation Administration of China, in 2020, the annual number of passengers transported by China's civil aircraft will reach 720 million.
Meanwhile, he admitted rising jet fuel prices would be a challenge. The carrier's flight operation expenses increased 22.38 percent to 62.98 billion yuan in 2017, a result of growth in average fuel prices. Jet fuel costs rose to 31,895 million, accounting for 50.64 percent of flight operation expenses.
A dividend of 0.1 yuan per share was proposed for the year, the same as that in 2016.
Last year, the airline reached a strategic cooperation agreement with American Airlines, who paid $200 million for 2.76 percent of China Southern Airlines' shares.
"The two carriers will establish a long-term cooperation relationship gradually. We hope to expand our aircraft network into the US," said Xie Bing, China Southern Airlines' secretary.