Manufacturers move toward productivity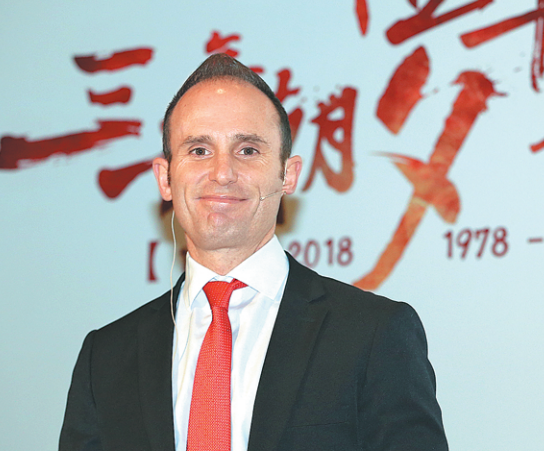 Editor's Note: This year marks the 40th anniversary of China's reform and opening-up. China Daily interviewed top executives of well-known multinational companies for their views on the country's socioeconomic development.
Rockwell Automation uses its technologies and solutions to help Chinese firms increase output and efficiency across their industries
Please use three words to describe China's changes in the past 40 years.
Extraordinary, rapid and transformative.
What are the biggest achievements in China since the introduction of the reform and opening-up policy 40 years ago?
The extraordinary growth in China's economy in the past 40 years has been a remarkable achievement given the economic situation at the end of the 1970s.
One of the areas in which China has excelled is expansion of primary transport infrastructure starting on the east coast, which facilitated better logistics supporting manufacturers and exporters.
Additionally, local governments developed power, water and other civil infrastructure, which both attracted investment and improved the lives of citizens. It's clear that those substantial investments have paid off, and are now well developed all over the country, and in no small part have contributed to the growth and well-being of China's middle class.
What's the biggest challenge China faces today and how can the country overcome it?
China has a number of challenges, which have been identified by President Xi Jinping as priorities in the next five years, and those are well-known publicly.
One of the other challenges that China faces is that we are no longer in the era of low-cost labor, low-cost financing and low-cost property, not to mention scarcity of traditional labor. All of these have a direct impact on manufacturers' profitability.
Today, manufacturers face a challenge in producing efficiently enough to remain profitable, and those who have committed to upgrading their manufacturing capabilities, either to increase profit margins or to become a well-known export brand, are moving toward automation. This is related to the "Made in China 2025" strategy.
Directly related to that challenge is the role of smart manufacturing and automation as part of the "Made in China 2025" strategy. Rockwell Automation, which is the largest company in the world solely focused on automation, has steadily implemented our "Connected Enterprise" strategy, which is our version of smart manufacturing, to provide a stable platform for manufacturers and the government to enable the goals of "Made in China 2025".
With 113 years of experience at Rockwell Automation, where we have been at the center of North America's industrial development, we understand how to utilize that innovative product and application knowledge to assist our customers to overcome similar challenges faced by Chinese industrial companies as they grow from large to strong global enterprises.
Besides increasing productivity and efficiency, and therefore profitability, our technologies and solutions help customers run environmentally compliant, safer and more energy-efficient processes, whether the goal is to bring lifesaving medicines to market faster, make clean drinking water more readily accessible, or improve the quality of popular products.
How has your company benefited from the reform and opening-up policy?
We are active in 80 countries today, and in the 30 years we have been here, our China operations have gone from a very small team to our largest global market other than North America.
The utilization of automation here has historically been relatively low, but today there is increasing acceptance of smart manufacturing. Therefore, there are many growth opportunities in the future, so we have a relatively positive outlook on the market going forward. In other words, we have grown in parallel with the development of the local market.
From an investment perspective, we are active in some key areas, and there are three or four key areas that we're investing in.
No 1 is human capital. We're always investing in additional people and additional training programs for engineering and sales, not to mention our University Partnership Program, which consists of 71 schools across the country. We have had 100,000 students learn about automation through our university courses and labs in the past 20 years.
The second area that we're investing in is around the "Connected Enterprise". To support our local and global customer base, we already have several R&D facilities in China; one example is that to better serve our local customers, we are implementing new remote monitoring labs to deliver our services from Dalian and Shanghai.
The third area that we're investing in is around partnering. We have a global network of 250 technology and service partners, and we deploy them to provide our customers with the best products and services possible. We also partner with customers and end users, whether those are integrators or OEMs (original equipment manufacturers), to achieve those same goals.
We're also investing in other partnerships here to ultimately accelerate our growth in China.
Has competition become intensified between your company and Chinese companies?
Chinese companies are increasingly competitive with foreign firms, and the foreign firms that will be successful are constantly adapting to local market conditions. China is a strategically important market for Rockwell Automation, and we have been consistently investing in the China market since 1988.
Over the past 30 years, we've improved ourselves as the market changed, and over that time have developed a broad footprint covering 34 offices, two manufacturing facilities, one R&D center, a software R&D campus and three distribution centers.
Our company helps Chinese companies to transform by achieving the productivity and efficiencies that modern smart manufacturing techniques allow. Our first job is to work with our customers to understand their best opportunities for productivity, where they can improve their cost structures, and how they can increase profitability for their shareholders.
Besides our customers, we work closely with governments at all levels and in most provinces, particularly to work with manufacturers in their geography to assist both the government and companies to achieve the goals of "Made in China 2025", and localize our solutions into their plants.
CV
Name: Bob Buttermore
Nationality: United States
Age: 44
Career:
Since Jan 2016: President of Rockwell Automation China
Jan 2013-Jan 2016: Regional Director Southeast Asia, Rockwell Automation
July 2009-Jan 2013: Global Business Manager for IEC Motor Control Centers in the United States, Rockwell Automation
1997-2009: Multiple roles in operations management, sales management, Rockwell Automation
Education:
Bachelor's degree in mechanical engineering from Ohio State University
Family: Married