Red Star women winning respect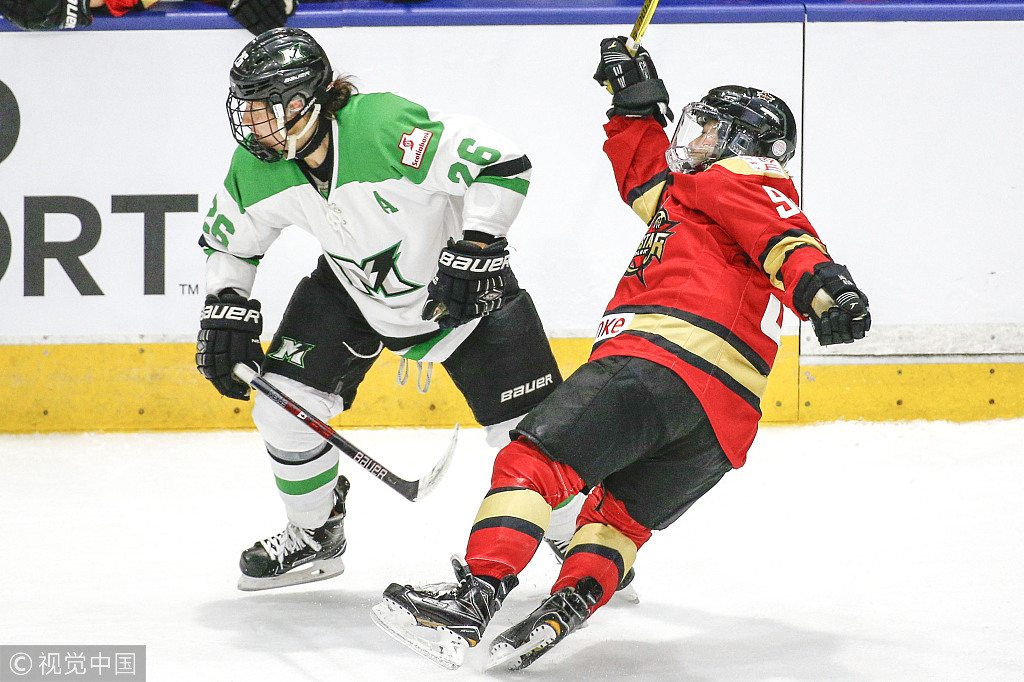 Falling just short of the championship in the world's top women's hockey league bodes well for Kunlun Red Star's ambition to build a competitive national team to represent China at the 2022 Winter Olympics in Beijing.
Red Star, an expansion entry in the seven-team Canadian Women's Hockey League, ended its miracle journey on Monday, losing 2-1 to the Markham Thunder in overtime in the one-off championship final at Ricoh Coliseum in Toronto.
It was the highest level ever achieved by a Chinese club in international hockey, and despite the disappointment of falling just short, the Shenzhen-based squad proved it can compete with the world's elite.
"It's not the result that we wanted, but the fact that we are an expansion team getting to the final and getting to overtime to almost win was a great accomplishment," Red Star head coach Digit Murphy told China Daily.
"Some of us have played in other championships, but this one was very special because we wanted to win for China. We feel like we did a good job, but on some level we let China down. And we don't want to ever let China down."
Red Star is part of a national program that also includes another CWHL entry, the Vanke Rays, established in June 2017 and tasked with honing Chinese talent with the aim of winning a medal at the 2022 Games.
Red Star's 24-player roster features 12 Chinese nationals, three North Americans with Chinese ancestry and international talents such as two-time Olympic silver medalist Kelli Stack of the US and top Finnish goaltender Noora Raty.
Murphy, one of the most decorated coaches in the collegiate and pro ranks over two decades in North America, was hired in March 2017 to push her Chinese players to the next level by skating with higher-caliber teammates.
"The past year the Chinese players have gotten better and better. They have really stepped up their level of play and have done a great job," said the American coach, who helmed the Boston Blades to the CWHL title in 2013 and 2015.
"To have Chinese nationals and Chinese North Americans combined with the internationals, we overachieved this year and we're very proud of what we accomplished."
Laura Stacey netted the winner 2:49 into overtime to lift the Thunder to victory and claim the Toronto-based team its first Clarkson Cup since 2008.
Red Star, which commuted across the Pacific during the regular season, enjoyed a 15-game winning streak in league play and outlasted the Calgary Inferno in a three-game semifinal playoff that was decided in triple-overtime.
Yu Baiwei, a star defender for Team China in its last Olympic appearance at the 2010 Vancouver Games, said the experience of fighting all the way to Monday's final was invaluable for her compatriots.
"The imperfect outcome is a perfect way for us to stay motivated and reflect on our weakness compared to the world's best girls," said the 29-year-old Harbin native.
"To make it to the playoffs this year was already a miracle. We will continue to improve from here, and the frequency and intensity of games in the CWHL will drive us to new levels."