Cole flower puts village economy in full bloom
Share - WeChat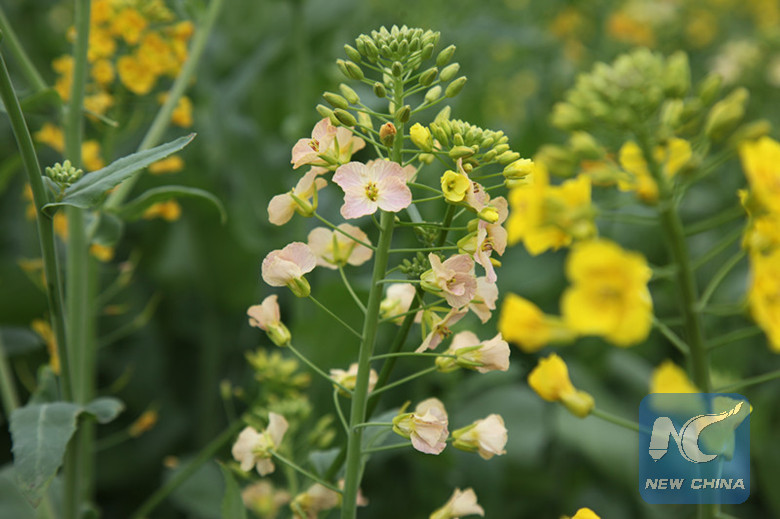 HANGZHOU - Though still in the preparatory phase of spring plowing, farmer Zheng Qiting has already achieved a bumper harvest.
Zheng plants cole flowers in Yangshu village in East China's Zhejiang province. The golden yellow flowers are blossoming for several hectares across the fields, attracting crowds of viewers.
"After enjoying the beautiful scenery, tourists come to my restaurant to eat and buy local products," Zheng said.
Flower tours have attracted crowds of tourists to rural areas in provinces such as Zhejiang, Jiangxi and Guizhou. Cole flowers have brought in about 10,000 yuan ($1,580) for Zheng in the past few days.
As the country of origin of cole, China has a long history of growing this vegetable.
"I see butterflies dancing around in the sea of flowers, smoke going up from kitchens of farmhouses, and streams flowing down the mountains," said visitor Zhou Mingchu. "I feel like I'm in a picture."
Zhejiang has done a lot of work to cash in on the flower, such as expanding planting areas, improving efficiency and introducing mechanized planting.
"The aesthetic value of cole flowers has surpassed their nutritional value," said Guan Chunyun, with the China Academy of Engineering. "They drive rural tourism, and improve farmers' incomes."
In Zhejiang's Xianju county, the annual cole flower festival was held this week, attracting millions of tourists.
"In the past, people pulled up the plants and replaced them with green onions or garlic," said Shen Binqi, a villager in the Xianju. "But now villagers pay more attention to environmental protection."
The cole flowers are so popular that scientists have tried to create different colors to attract more visitors. Jiangxi Agricultural University has developed cole flowers in 17 colors.
"The sea of cole flowers is a signature tourism resource in Jiangxi, but the industry is restricted by the limited number of flower colors," said Fu Donghui, who heads up the research team.
In 2017, Fu created four new colors, including purple and crimson, based on 13 other colors. Nine of the 17 colors are already stable for large scale plantation, he said.
Fu has also helped prolong the flowering phase of the plant for 10 days.
"One day of prolonged flowering can help bring in an extra 10 million yuan of revenue for Wuyuan," Fu said, referring to one of the most popular counties for cole flowers.