VW electrifies lineup with e-Golf launch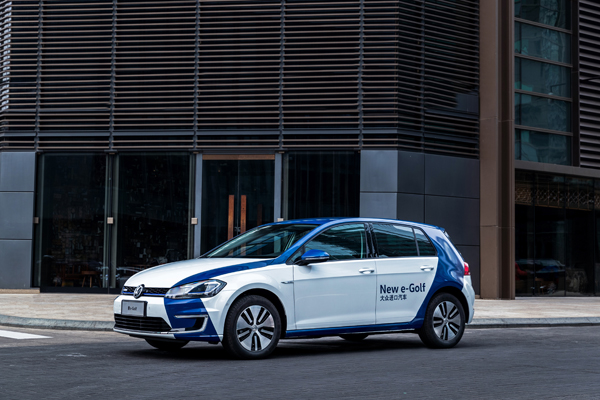 Volkswagen has introduced another new energy model, the electric new e-Golf, into China as part of its efforts to promote e-mobility in the world's largest car market.
It offered its electric up! model in 2014 to gauge market response in China and one year later introduced its first plug-in hybrid, the Golf GTE.
Axel Schroeder, managing director of Volkswagen Import, said the latest iteration, the new e-Golf, will help the carmaker to better understand the market and raise awareness among customers about Volkswagen's e-mobility campaign.
"Today's launch of the new e-Golf is critical in setting the tone for our future brand strategy, with new energy cars as our key product offerings in the coming years," Schroeder said.
He said the model-which has a top torque of 290 Newton meters-delivers the now-expected premium German engineering, yet matches the needs of Chinese consumers on affordability without sacrificing performance or quality.
The new e-Golf features a Car Net function, which allows the driver to see the car's condition via his or her smartphone, as well as an updated automatic parking system.
According to Volkswagen Import, the model has a 255-kilometer range and can reach 80 percent of its charging capacity within 40 minutes using the fast charging network.
If using charging boxes at home, it will take five hours to fully charge.
Via the Car Net app on the smartphones, the driver can easily find available charging poles and pay for charging through Alibaba's mobile payment tool Alipay.
Schroeder said, "We have always believed, and are now witnessing, that China is and will continue to be the world's greatest new energy car market."
China sold 777,000 new energy cars in 2017, according to the China Association of Automobile Manufacturers. The association estimated that sales will exceed 1 million this year.
Volkswagen Import will introduce the Volkswagen Variant GTE into China later this year, which is set to be followed by the Touareg GTE in the near future. From 2020 onward, it will start to offer models based on the more advanced MEB platform, which was designed specifically for electric drive only.
In addition to imported models, Volkswagen is planning to localize new energy cars with its partners in the country. The carmaker said it aims to sell 400,000 new energy cars in 2020 in the country, while the figure is expected to reach 1.5 million in 2025.
"Our strategy is very much in line with the Chinese government's policies regarding the promotion of such cars," Schroeder said.
Globally, Volkswagen will invest more than 34 billion euros ($41.8 billion) in e-mobility and other new services by 2022.