PetroChina net profit surges on oil rally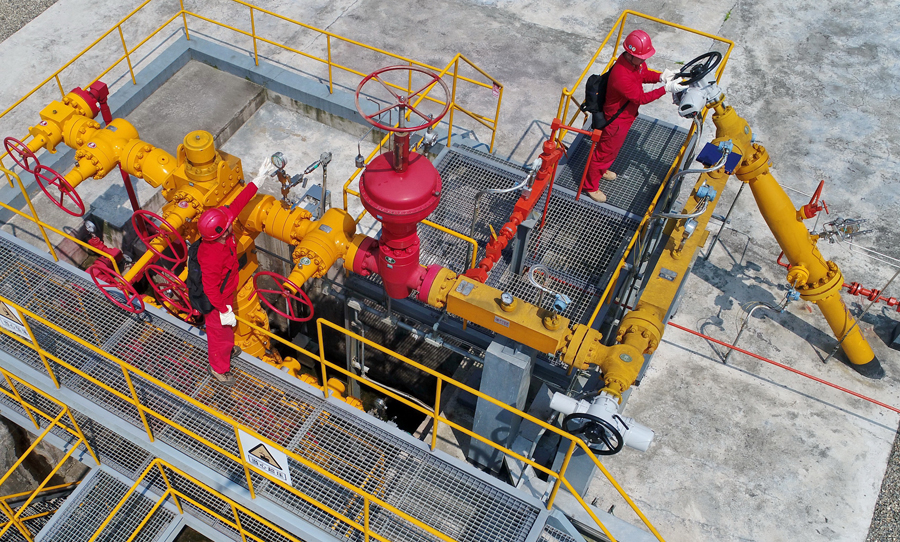 China National Petroleum Corp, or PetroChina, the country's largest oil producer, said its production and operations remained stable in 2017 with profits almost triple the previous year as earnings from exploration and production overcame asset write-downs.
Boosted by rises in the prices of crude oil, natural gas and refined products, the company's net profit for 2017 increased by 190.2 percent to 22.79 billion yuan ($3.6 billion) from 7.85 billion yuan in 2016.
Revenue grew by 24.7 percent to 2.01 trillion yuan, the Beijing-based company said in a statement to the Hong Kong bourse on Thursday.
Analysts said PetroChina has been recovering from its not-that-ideal performance the previous year as the rally in oil prices bolstered its exploration and production segement.
Wang Lu, an Asia-Pacific oil and gas analyst at Bloomberg Intelligence, said results are in line with consensus and the company's guidance.
"The recovery of earnings is mainly due to higher E&P profit thanks to higher oil prices," she said.
"Refining EBIT (earnings before interest and taxes) improved last year as its Yunnan refinery ramped up production, while marketing EBIT margin has been eroded by intensified competition with Sinopec and independent refiners."
Global benchmark Brent crude averaged 21 percent higher in 2017 than the year before as OPEC and its allies cut output.
While the State-owned giant took a 23.9 billion yuan hit from reselling imported gas domestically below cost, those losses are seen as having peaked.
The company has also taken full advantage of its integrated business model, optimized resource allocation, production and operations, and stepped up its efforts to create new revenue streams, cut unnecessary expenses, lower costs and boost efficiency, it said.
According to Wang, losses from importing liquefied natural gas and pipeline gas have grown. These two have offset part of the E&P and refining improvements.
"PetroChina needs higher oil prices to increase its profit as the earnings improvement is highly dependent on the E&P segment," she said. "The company should grasp the opportunity of accelerated gas demand growth, increase its domestic gas production and try to renegotiate legacy contracts to get more favorable prices to narrow losses from importing LNG and pipeline gas."
PetroChina on Wednesday signed two deals to take 10 percent stakes in two of Abu Dhabi National Oil Co's offshore concessions under a 40-year agreement to meet China's rising demand for energy and contribute to asset portfolio optimization and the enhancement of PetroChina's profitability.