Baidu gets green light to test autonomous cars in Beijing, ahead of schedule
Share - WeChat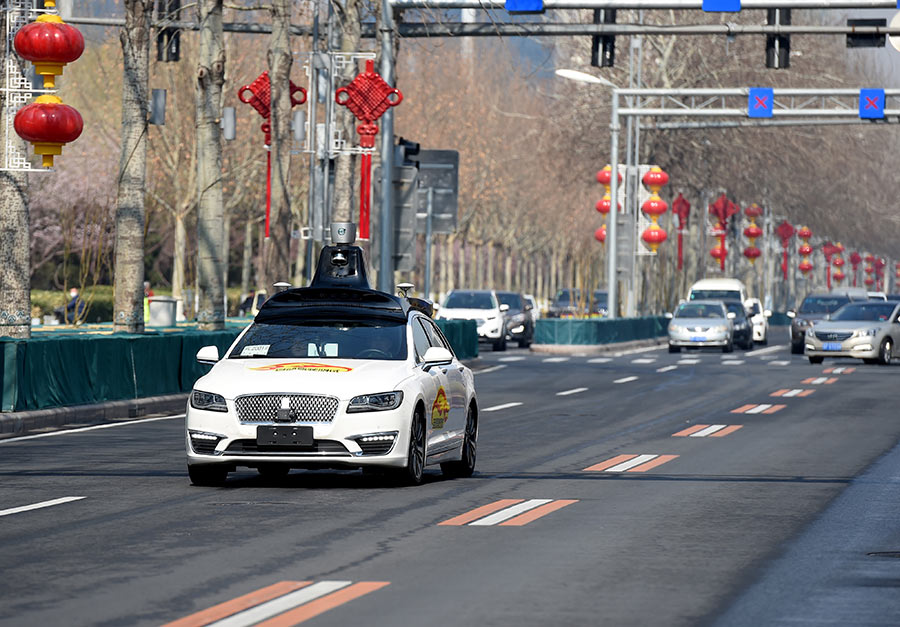 Chinese internet search giant Baidu Inc obtained a license to test its self-driving cars on open roads in Beijing on Thursday, meaning a large-scale commercial use of such vehicles could cruise into people's lives faster than many have expected.
The company became the first enterprise to conduct road tests in designated zones in the capital. Five vehicles using Baidu's autonomous driving system Apollo underwent an open road test in Yizhuang, a southern suburb in Beijing.
The municipal government issued the country's first guideline for road tests of autonomous vehicles in December. To qualify for road testing, a vehicle must already have been test-driven for at least 5,000 kilometers in a closed environment and the backup drivers should have received no less than 50 hours of training, according to the Beijing Commission of Transportation.
The commission said the city's first closed test center was opened in Haidian district last month. The test site covers about 13.3 hectares, allowing vehicles to be tested under as many as 100 road conditions, such as those found on urban and rural roads.
On March 1, authorities in Shanghai issued the country's first road test licenses to two smart-car makers, SAIC Motor Corp Ltd and electric vehicle startup Nio Auto.
China expects vehicles with some autonomous functions to account for half of new vehicles sold in the country by 2020, according to a guideline released by the National Development and Reform Commission in January.
Li Yanhong, Baidu's chairman and chief executive, also known as Robin Li, said this month that it may take three to five years to put fully autonomous-driving vehicles on truly open roads.
However, the recent fatal self-driving car crash of an Uber Technologies Inc vehicle in the United States has raised public concern about the safety of such vehicles.
Uber has temporarily halted testing of its self-driving cars on public roads after a woman was struck and killed by one of its vehicles when walking across the street in Arizona on Monday.
Industry insiders say such vehicles still have a long way to go before they can reach the mass production stage or be used commercially on a large scale due to safety concerns.
"We should be cautious about self-driving technology. Companies should invest and establish more testing sites that imitate different traffic scenarios rather than testing their vehicles on the urban roads prematurely," said Lin Jian, a senior engineer in the automobile engineering department at Tsinghua University.
Zeng Zhiling, managing director of LMC Automotive Consulting Co, warned that self-driving vehicles are vulnerable to cyber attacks as they are highly intelligent and networked, adding more tests are needed before such vehicles are integrated into people's daily lives.