SOHO plans spinoff of co-working division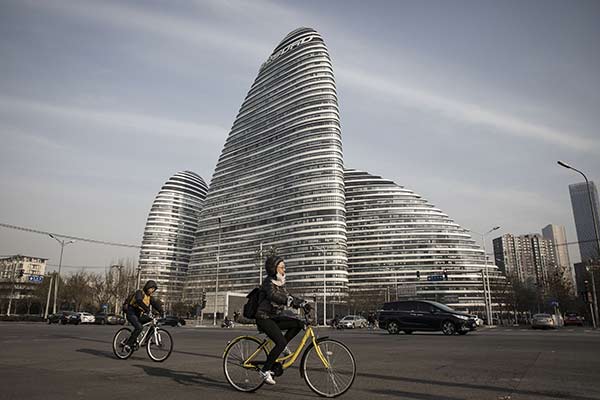 Hong Kong-listed SOHO China Ltd said on Tuesday that it is planning to spin off its co-working space business SOHO 3Q and take it public to realize its value.
SOHO also announced that its net profit in 2017 surged 420 percent year-on-year to reach 4.73 billion yuan ($747.3 million).
According to its Chairman Pan Shiyi, SOHO 3Q, the co-working division wholly owned by SOHO China, is going to speed up expansion by doubling its workspace seating numbers to 50,000 this year.
"The current share price can hardly reflect the value of SOHO 3Q … There are plans to spin off this sector for independent listing in the future once it grows big enough …" said Sharon Tong, CFO of SOHO China.
As she explained, the flexible business mode of shared office spaces is full of opportunity in China, especially as the innovative working model meets the needs of emerging startup companies, innovative enterprises and businesses. Much of the existing available office and commercial space across the mainland can be turned into shared office space.
SOHO is currently operating 26 SOHO 3Q centers in Beijing, Shanghai, Hangzhou (in Zhejiang), Shenzhen (in Guangdong) and Nanjing (in Jiangsu) with about 26,000 seats, and the co-working business is going to double its seat numbers while expanding to more Chinese cities in 2018.
"In five years … SOHO China has completed its business mode transformation. All the projects owned by the company are irreplaceable prime assets," Pan said.
SOHO China made the decision of shifting its business mode years ago, when other major developers still stuck to traditional ways of making profits through property sales, said Chen Sheng, president of the China Real Estate Data Academy.
In its transformation from a property seller to a landlord, SOHO encountered shrinking revenue as rents generated this way were incomparable to the sales revenue of properties.
But according to Pan, SOHO China adopted a new management methodology last year, which is expected to help the company realize a 10 percent year-on-year growth in rent alone this year.
In 2017, SOHO China turned out about 1.96 billion yuan in sales revenue, up 24 percent from the previous year and its rental income grew 11 percent to about 1.67 billion yuan.
SOHO China currently has two projects under construction-Leeza SOHO in Beijing and Gubei SOHO in Shanghai. With their completion, expected by mid-2019, the company will operate a total of 1.4 million square meters of prime office property in Beijing and Shanghai.
Shares of SOHO China closed at HK$4.48 (57 cents) per share on Tuesday, nosediving 7.44 percent.