Demand for blockchain talents exceeds available professionals
Share - WeChat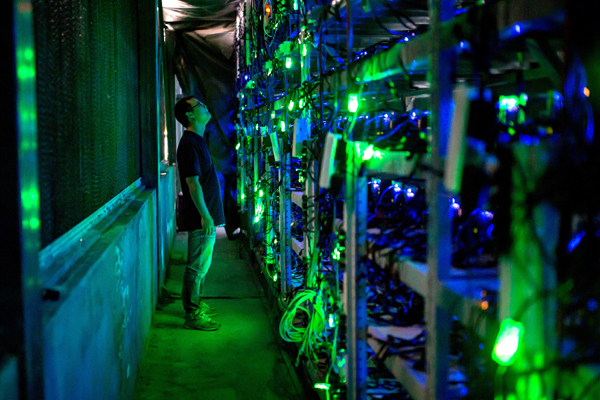 Blockchain talents, who make an industry average of 25,000 yuan a month, are greatly needed this year as the demand for such professionals far exceeds the supply, according to a report by lieyunwang.com.
In the first two months of this year, the recruitment demand for blockchain-related talents reached 9.7 times that of the same period in 2017, with the number of companies advertising blockchain-related positions rising 4.6-fold year-on-year, online recruitment platform Boss Zhipin said in a report.
Employment-oriented social networking platform site LinkedIn also said in a report the global demand for blockchain talent has been surging since 2015 and the last two years have seen explosive growth.
Chinese internet companies Tencent Holdings Ltd, Qihoo 360, Lenovo Group, JD.com and Meitu Inc are involved in the race to recruit blockchain talents, lieyunwang.com reported.
Tencent is looking for senior blockchain product architects, offering a monthly salary of 25,000 to 50,000 yuan; Qihoo 360 is willing to offer 50,000 to 100,000 yuan per month for recruiting blockchain technicians; and Meitu is hiring a blockchain product director whose salary will range from 20,000 to 40,000 yuan, according to the report.
Recruitment requirements show that companies prefer to hire people for technical positions, such as blockchain system engineer, blockchain technical director and blockchain architect, and that Beijing, Shanghai and Hangzhou are where demand is strongest for blockchain talents, the report said.
A technical position may require the job applicant to be familiar with the financial industry, interested in digital currency and blockchain, have an opinion on cryptocurrencies, such as bitcoin and ethereum, be able to build a blockchain-based underlying architecture and application platform and be capable of realizing public blockchain, side chain and consortium blockchains, the report said.
Some tech startups even would like to offer a yearly salary as high as 1 million yuan to blockchain talents, according to the report.
"Blockchain is a good technology, but it is still in the early stages of development, which means an effective application model needs to be built," Pony Ma, chairman and CEO of Tencent, said earlier this month, according to a report by chinanews.com.
He said Tencent has been actively exploring the application of the blockchain in fields such as supply-chain finance, Tencent micro gold, logistics information, forensic evidence and public interest people searches.
Alibaba Group Holding Ltd also has piloted blockchain in several applications, the report said.
In August, 2017, Ali-Health, the medical and health arm of Alibaba, launched China's first medical scene-based blockchain application, the Medical Treatment Alliance + Blockchain pilot project, in cooperation with Changzhou city in East China's Jiangsu province.
Wang Di, vice-president of technology of LinkedIn China, said blockchain, as a technology community-driven emerging technology model that is in an early high-speed stage of development, is still undeveloped, the report said.