President takes oath of allegiance to Constitution for first time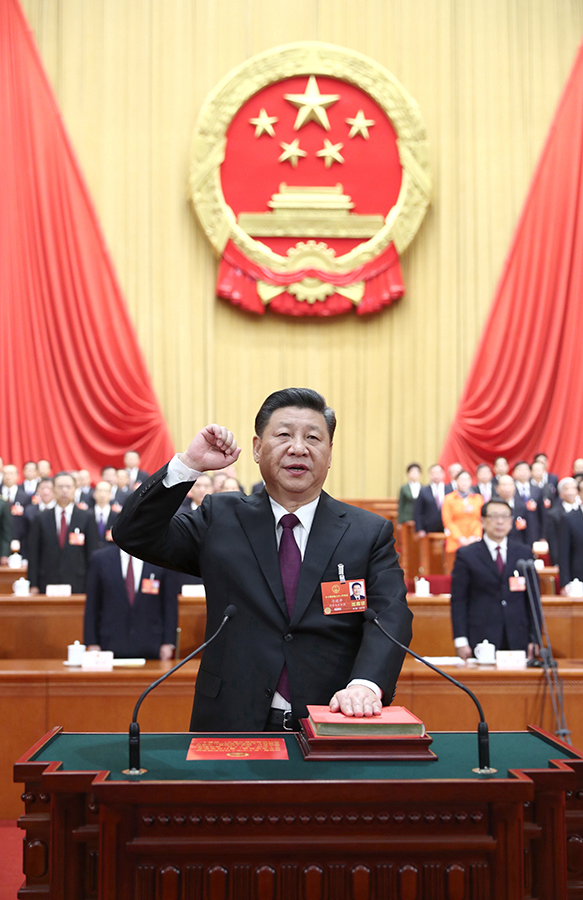 BEIJING -- "I pledge my allegiance to the Constitution of the People's Republic of China (PRC) to safeguard the Constitution's authority, fulfill my legal obligations ..." Newly elected Chinese President Xi Jinping took the solemn oath in Beijing Saturday.
This was the first time for a Chinese president to take a public oath of allegiance to the Constitution upon assuming office.
Xi was elected Chinese president and chairman of the Central Military Commission (CMC) of the PRC earlier Saturday at the ongoing first session of the 13th National People's Congress (NPC), the national legislature.
Last October, he was elected general secretary of the Central Committee of the Communist Party of China (CPC) and appointed CMC chairman of the CPC at the first plenary session of the 19th CPC Central Committee.
With the national emblem hung up high in an auditorium inside the Great Hall of the People, everybody stood and a hard copy of the Constitution was brought to the stage by honor guards as the ceremony started at around 10:49 a.m.
After a chorus of the national anthem was sung by all present, 64-year-old Xi, in a dark suit, took the podium, placed his left hand upon the Constitution, raised his right fist, and read the oath.
"[I pledge to] be loyal to the country and the people, be committed and honest in my duty, accept the people's supervision and work for a great modern socialist country that is prosperous, strong, democratic, culturally advanced, harmonious and beautiful," he said.
He then bowed and returned to his seat amid warm applause.