For NPC deputy, work is a family affair
Share - WeChat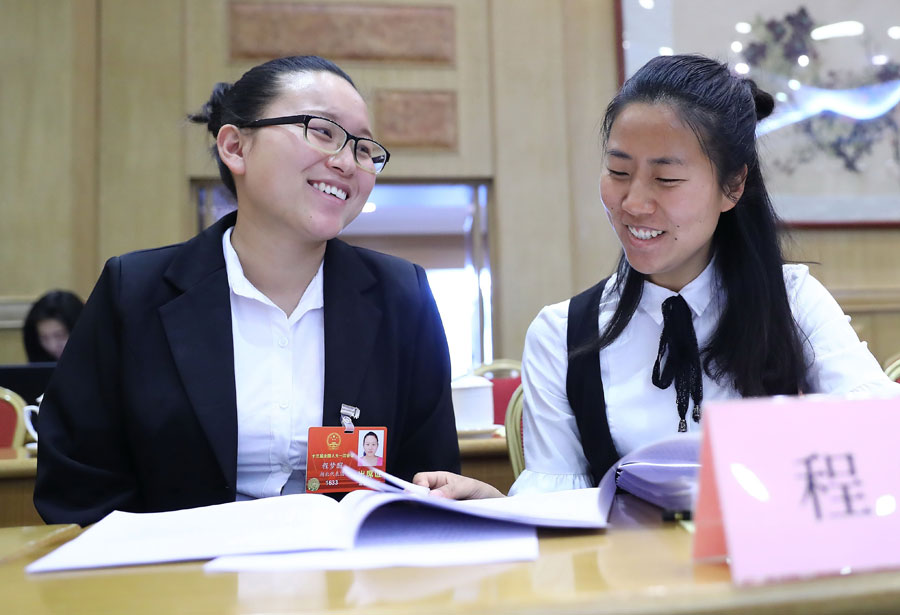 You probably have heard of "bring a child to work day". This time, Cheng Mengxing, a deputy to the 13th National People's Congress, brought her 3-month-old baby to the annual two sessions.
"I can't leave my nursing baby girl alone," said the 28-year-old mother and entrepreneur from Hubei province.
"It may look difficult to fulfill routine tasks as an NPC deputy while taking care of my baby at the same time, but I believe I can balance the demands of being a mom with my work."
Cheng has brought her mother to help take care of the baby during the times she will be away for meetings. She also received help from fellow legislators.
As a new mom and a first-time NPC deputy, Cheng focuses on entrepreneurship in rural areas, saying it will not only help boost the local economy, but will also foster a better solution to the problem of left-behind children.
"In my hometown, most villagers migrate to cities for work to support the family. I suggest the government roll out more favorable policies, such as the establishment of an entrepreneurial fund, to attract more people to return home," she said.
"And then they can spend more time with their children and parents."
Cheng is among a growing number of Chinese college graduates who have chosen to start their own businesses instead of searching for jobs. However, unlike most young entrepreneurs, who prefer large cities, she chose to return home to the rural village of Sanjie in Yingcheng, Hubei province.
With the aim of boosting the local gourmet industry, Cheng registered her private business in 2013 and then in 2014 started selling local culinary specialties.
She believes that traditional foods will evolve to highlight natural flavors and healthy lifestyles.
Cheng makes the traditional local food doupi-which is usually made of wheat and rice and looks like dried noodles-from a recipe passed down by her parents, who have been in the field for decades.
"I add buckwheat, peas, mung peas, millet and other healthy whole grains to traditional doupi," she said.
Now, Cheng wants to expand the categories of the local specialty.
"People usually will boil or fry doupi and eat them as main dishes. Instead, I plan to find more ways to sell doupi, such as making doupi into instant food or snacks."
Priced from 10 yuan ($1.60) to 100 yuan per kilogram, more than 10 kinds of doupi are sold via online and offline stores.
With more than 30 employees, Cheng's company is able to produce 3,000 kilograms of doupi a day.
"One company alone may not be so big, but the combination of dozens of those small businesses can create strong momentum in the market," she added.
China is introducing incentives to boost small businesses and startups in rural areas.
Premier Li Keqiang said at a State Council executive meeting in January that the country would roll out more preferential measures to stimulate growth in rural areas. Migrant workers, college graduates and discharged soldiers are encouraged to return to their hometowns and invest in enterprises in their communities.