China's march towards a moderately well-off society
Share - WeChat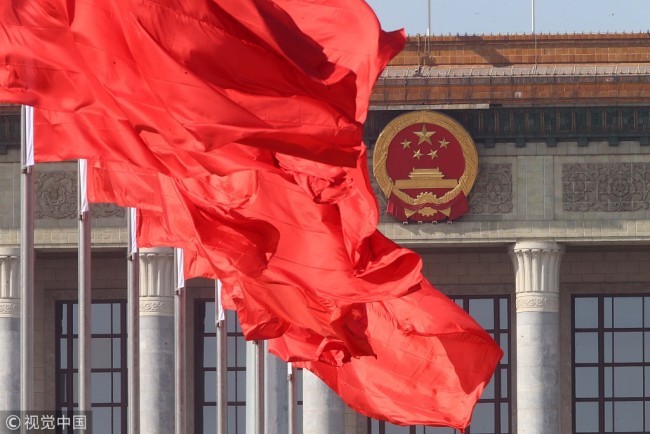 When former Chinese leader Deng Xiaoping used the term "xiaokang society" in 1979 as the eventual goal of Chinese modernization, he was thinking of a China that would one day become a nation where people are moderately well-off — where economic prosperity is capable of moving most of the population into comfortable means.
Not even a month after Xi Jinping took the helm following the 18th CPC National Congress in 2012, he put forward his concept of a "Chinese Dream" for the "great rejuvenation of the Chinese people", taking influence from Deng's original goal. Xi's Chinese Dream as attaining the "Two Centenary Goals": the material targets of China becoming a "moderately well-off society" by around 2021, the 100th anniversary of the Chinese Communist Party, and the modernization target of China becoming a completely developed country by around 2049, the 100th anniversary of the People's Republic. If China reaches the first target — which it is on course to do — the International Monetary Fund estimates its economy will be 40 percent larger than that of the US, as measured in terms of purchasing power parity. If China meets the second target by 2049, its economy will be three times the size of the US. A moderately well-off society is where all citizens, rural and urban, enjoy high standards of living. This includes building a "moderately prosperous society" by doubling 2010 per-capita GDP to $10,000 by 2021 and completing urbanization by around 2030.
"Modernization" means China regaining its position as a world leader in science and technology as well as in business and economics; the resurgence of Chinese civilization, culture and military might; and China participating actively in all areas of human endeavor. Xi made it clear "the whole party and country must hold and boost firm self-confidence in the socialist road with Chinese characteristics, theoretical self-confidence, self-confidence in China's own system, and cultural self-confidence." These "four self-confidences" are part of the path to realizing a moderately well-off society.
One indicator of prosperity — as China's economy keeps growing, poverty is greatly reduced. China's per capita gross national income has increased from $5,940 to $8,260. Fundamental to a well-off society, poverty alleviation gave better lives to 55 million Chinese people in 2013-2016, a number greater than the population of the Republic of Korea. The government of China has boldly pledged to eradicate poverty by 2020. It is up to local authorities to make sure that every family has an achievable plan to cast off poverty. Xi has brought his own thinking to bear on problems that will be faced down the road, especially after a year of tumultuous global events. Rural poverty has been significantly alleviated, with over 13 million people lifted out of poverty annually. In the first 11 months of 2016, China created over 12 million new jobs in cities and townships, further raising the Chinese people's sense of well-being and happiness. In recent times, remarkable progress has also been made in China's infrastructure, with projects like the railway extension to the Qinghai-Tibet Plateau, the building of a comprehensive highway network throughout the nation, the construction of the Three Gorges Dam and multiple ports that better link the country with the ocean.
A set of complete industrial sectors has been established and China has seen a bumper agricultural harvest for many years running. At the same time, China has attained new breakthroughs in aerospace development and further built up its national defense capabilities. While realizing its own development, China has also made vital contributions to global economic growth.
According to an estimate by the International Monetary Fund, China contributed 39 percent to global economic growth in 2016, a jump of 14.2 percentage points from 2015. China is on course to achieve remarkable growth, even though other major economies are faltering. China now contributes more than 30 percent of world economic growth. The Chinese leadership calls the present phase the "new normal", from which an economy is emerging that is more sustainable and inclusive. To ensure the success of this rebalancing, the Chinese leadership has put forward supply-side structural reform as the cure.
Fundamentally dissimilar from the supply-side economics of the West, China's policy means taking a harsh stance against outdated and inefficient industries and putting in their place new, innovative systems of work and production which will neither destroy the environment nor succumb when the next global financial crisis hits. China has set its GDP growth target at around 6.5 percent for 2018, unchanged from the target for 2017. Premier Li Keqiang said given China's economic fundamentals and capacity for creating employment, a GDP growth of about 6.5 percent will allow China to attain relatively complete employment. Furthermore, Li asserted the rate will help China secure a decisive victory in building a moderately prosperous society in all respects. At this rate, China will generate more total output than it did during the days of double-digit growth. China is at the wheel of a reform juggernaut, revitalizing and renewing almost every aspect of the economy and society, from the financial sector to health care — above all, to a stage of high-quality development.
Changing the lives of hundreds of millions of people means the abandonment of what is no longer relevant. China's strong defense of free trade and warnings against protectionism – "locking oneself in a dark room" – has surprised and delighted observers. According to a January 2017 report released by the US-China Business Council based in Washington D.C, the China-US trade relationship presently "supports approximately 2.6 million jobs in the United States across a range of industries".
Making a great nation requires robust and competent leadership devoted to the fundamental interests of the people. China's leadership has a long-term target and is more inclined to plan for the next generation and beyond. In the Chinese government's view, whenever they make a blueprint, they are ready to see it through to completion. This common dream not only profits the Chinese people, but also the entire world. If China can finish the battle with poverty and stabilize its economy, it will be well on its way towards a moderately well-off society.
The author is the Executive Director of the Center for Nigerian Studies at the Institute of African Studies, Zhejiang Normal University.
The opinions expressed here are those of the writer and don't represent views of China Daily website.
Most Viewed in 24 Hours
China Views