FDI into China rises 0.5% in January-February
Share - WeChat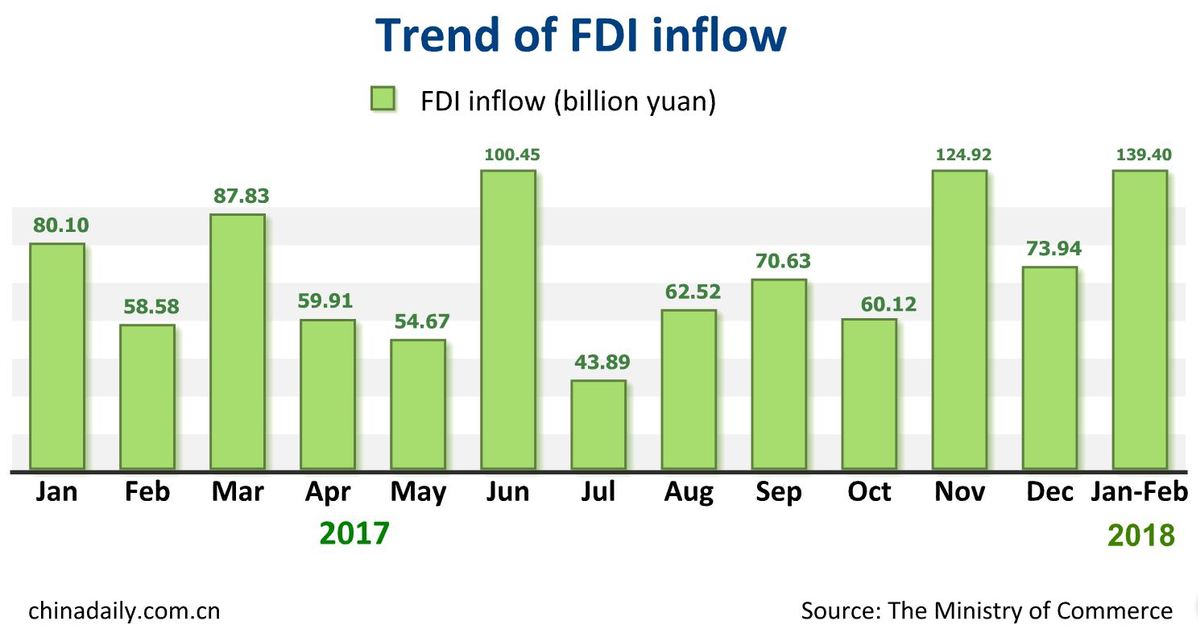 BEIJING - Foreign direct investment (FDI) into the Chinese mainland posted a 0.5 percent year-on-year increase in the first two months of 2018, official data showed Thursday.
FDI in January and February reached 139.4 billion yuan ($22.1 billion), the Ministry of Commerce (MOC) said in a statement.
During the period, 8,848 foreign-invested enterprises were established, up 129.2 percent year on year.
FDI to the high-tech sector continued to grow, up 27.9 percent year on year, accounting for 19.5 percent of the total.
Some 14.5 billion yuan flowed into the high-tech manufacturing industry, soaring 89.7 percent from a year earlier, with investment in medicine and medical equipment manufacturing jumping 129.6 percent and 321.8 percent, respectively.
FDI into western China registered rapid growth, up 76.3 percent, while that in central China rose 35.3 percent.
FDI from Singapore, the Republic of Korea and the United States increased 62.9 percent, 171.9 percent and 56.8 percent, respectively.
Meanwhile, investment made by countries along the Belt and Road climbed 75.7 percent year on year.
As the business environment continues to improve, China is set to attract steady foreign investment inflows by opening up and easing market access.
FDI is expected to keep steady in 2018 despite uncertainties in the world economy, the MOC have said.
In 2017, the country's FDI rose 7.9 percent year on year to reach 877.6 billion yuan.