'Great 8' joins elite list of snipers
Ovechkin becomes fourth-fastest to reach 600-goal plateau in NHL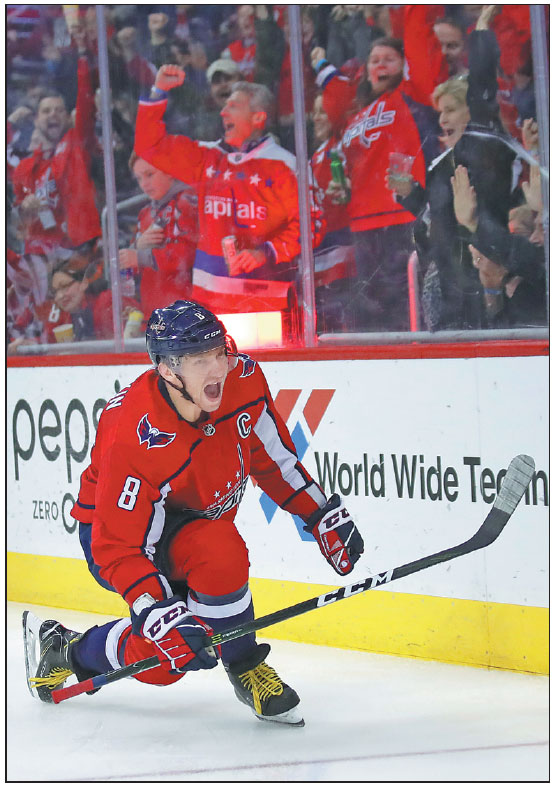 WASHINGTON - Make it 600 goals and counting for Alex Ovechkin. And give the Washington Capitals two more points in the tough Eastern Conference playoff race.
Ovechkin - aka 'The Great 8' - scored twice in another historic performance and Evgeny Kuznetsov had the overtime winner as the Capitals edged the Winnipeg Jets 3-2 on Monday night.
The 32-year-old Ovechkin scored during a 5-on-3 powerplay in the first period and then swiped a rebound past Connor Hellebuyck for No 600 in the second.
The Russian winger became the 20th player and fourth-fastest in NHL history to hit the milestone, and with 42 goals on the season he's on pace to lead the league for the seventh time.
"Of course it's special," he said. "You can see when I scored the goal, everybody tried to find me, everybody tried to look at me. I knew if I'm gonna have another chance, I'm gonna score."
Ovechkin continued a season-long trend of scoring a high volume of goals for the Capitals, who lost significant talent from back-to-back Presidents' Trophy-winning teams.
He has roughly 20 percent of Washington's goals this season and needed to be on his game against Patrik Laine and Winnipeg.
Laine entered with an 11-game point streak and scored his 41st of the season to make it 16 in his past 12.
Nikolaj Ehlers also scored a 4-on-4 goal for Winnipeg, which got 40 saves from Connor Hellebuyck.
But everyone was left in awe of Ovechkin, who could become the first player age 32 or older to lead the NHL in goals since Phil Esposito in 1974-75.
"I'm sure one day we'll look at it and get perspective on it," said Caps owner Ted Leonsis said. "But it's all a part of this process and he's not fazed by it. He said the other day 40's good but 50's nicer and he's going to get 50 goals. You can just tell he's very, very determined and he is a historic player."
Ovechkin joined Wayne Gretzky, Mario Lemieux and Brett Hull as the only players to score 600 in fewer than 1,000 games. He said his wife, Nastya, who just returned from a weeklong trip to Moscow, had a feeling he would accomplish the feat against the Jets.
"Right now her parents are in Moscow, but she made it," Ovechkin said. "It's kind of nice when someone from your family is in the stands."
Ovechkin got two lengthy standing ovations from the crowd that has been dazzled by his accomplishments since he made his debut in 2005.
It was of little surprise he delivered in what was a showdown with another fellow 40-goal sniper in Laine, who idolized Ovechkin growing up in Sweden.
"I was pretty close watching it," Laine said of Ovechkin's goal 3:53 into the second period. "I was in a good spot - just behind him. I was there when he made history, so I can maybe watch that someday and show I was there."
Kuznetsov got his 21st of the season on a breakaway 4:11 into OT. He joked that Ovechkin scoring 600 was "a free meal" for him and that he was thrilled to cap the night for Washington.
"I feel like my legs were 15 years old," Kuznetsov said. "I don't have a good overtime the last 10 games probably. I just wanted to score that because I know that one point will make a huge difference at the end of the year."
Associated Press