State Council reshuffle proposed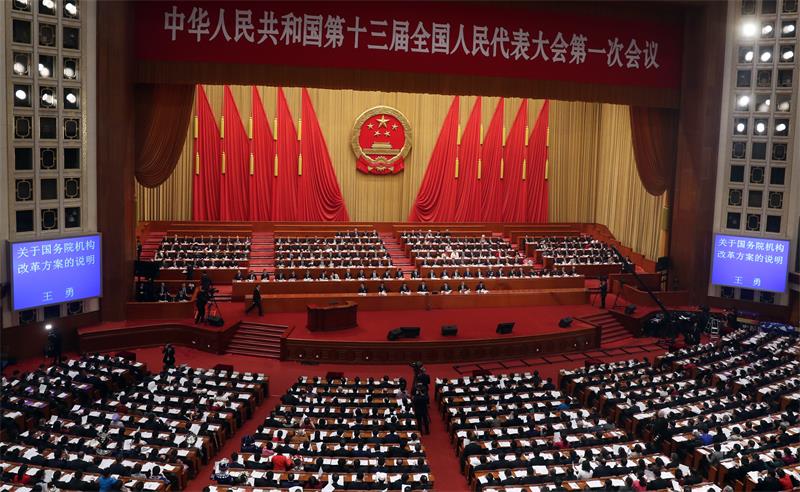 Major changes aim to improve efficiency and public services
China unveiled a plan for its biggest Cabinet reshuffling in years on Tuesday as part of an effort to improve the government's structure, efficiency and service orientation.
The institutional reform plan of the State Council, China's Cabinet, says the body will have 26 ministries and commissions after it is reshuffled. The State Council's ministerial-level entities will be reduced by eight and vice-ministerial-level entities will fall by seven.
The reform plan was submitted to the ongoing first session of the 13th National People's Congress for deliberation.
New entities include ministries of natural resources, veterans affairs and emergency management.
There will also be new administrations under the State Council such as an international development cooperation agency and a State immigration administration.
The reform aims to push forward institutional restructuring in key areas. It is designed to strengthen the government's economic management, market supervision, social management, public service and environmental protection.
State Councilor Wang Yong, who introduced the plan at the NPC session on Tuesday, said the reform will strengthen the overall leadership of the Party, help modernize the system and capacity of State governance and improve governance efficiency.
Cabinet reform will focus on transforming the government's functions, removing bottlenecks that impede the market's decisive role in resource allocation and facilitating the pursuit of high-quality growth, he said.
During the Third Plenary Session of the 19th Communist Party of China Central Committee from Feb 26 to 28, the CPC Central Committee adopted a decision on deepening reform of Party and State institutions.
The decision stated that deepening that reform is a profound change to promote the modernization of the system and capacity for governance of the State.
"Deepening the reform of the Party and State institutions is an inevitable requirement for strengthening the long-term governance of the Party," Liu He, a member of the Political Bureau of the CPC Central Committee, said in an article published by People's Daily on Tuesday.